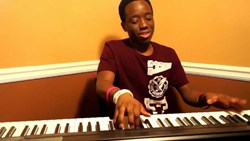 Music is who I am.
Atlanta, GA (PRWEB) September 25, 2013
Disappointed, but very brave, Matthew Brea gave God the glory for his voice when asked by Cee Lo where he got that voice from.
Cee Lo also asked him what inspired him to sing, to which Matthew replied, "I had a younger brother who passed when I was seven, so I carry that experience in my singing and voice."
At Actors, Models and Talent for Christ (AMTC), Matthew said, "I would like to be a professional singer and to sing for Christ. Also, I would like to be able to touch people's hearts with the gospel." Matthew went through AMTC and graduated at the Winter 2012 SHINE convention where he received seven callbacks and was awarded Teen Singer finalist as well as a Talent Show Finalist.
After Matthew's performance on The Voice, Cee Lo encouraged him by saying, "I appreciate you, man, for giving it your best shot...it boils down to a technicality -- those things you can work one. You've got time to do that. Don't give up." Adam added, "Promise us you'll come back," followed by Blake, with a firm handshake saying, "Come back and see us." And Christina gave him two big hugs.
Now, before the show, Matthew said that he saw it as a one time opportunity, "I don't believe in second chances. This is my one shot. I'm gonna take it and grab it."
Maybe all four judges felt this, because they all, obviously, want him to try again. And on stage Matthew told them, "Yeah, I'm coming back."
Matthew started out by going to an AMTC audition in Atlanta. To find one in your area, please visit http://www.AMTCaudition.com.