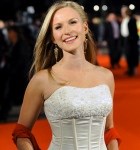 I always want to do movies where I can really impact or inspire audiences through the art of storytelling.
Atlanta, GA (PRWEB) September 30, 2013
Award winning actress Jenn Gotzon had her career break playing President Nixon's daughter Tricia (cameo role) in Ron Howard's Oscar-nominated FROST/NIXON which launched her as a rising star and top Christian actress. She "is compared to a young Meryl Streep for her chameleon-like transformations," stated Valley Social Magazine.
Sharon Wilharm, Editor of Faithflix says, Alone Yet Not Alone delivers "Strong acting, especially from the female leads (Joanie Stewart, Jenn Gotzon, Kelly Greyson, and Natalie Racoosin)." Also, "Jenn Gotzon's portrayal of Lydia being burned at the stake brought chills. Her approach was so unexpected and yet so right."
Several moviegoers gave it two thumbs up, one from the Dallas premiere was asked what he took out of this film to which he replied, "Their aspect of courage -- to keep your values in the midst of a hopeless situation."
The film has "breathtaking cinematography and...every moment was action-packed with constant twists and turns, says Wilharm. And, according to trendsMetaDataDotCom "ALONE YET NOT ALONE is currently liked 94%."
Jenn Gotzon is an AMTC Presenter, Mentor, Scout and Acting teacher. Gotzon developed a motivational mentor-outreach program, INSPIRING AUDIENCES, where she speaks to high school students, screens her movies, shares her journey on overcoming life's obstacles and educates and encourages teens.
One such student says, "I had the opportunity to take a class with Jenn at the Roanoke Arts and Entertainment Conference and was impressed with her not just as an actress, but as a caring individual with a heart for God."
You may connect with Jenn Gotzon via Facebook (jenngotzon.fanpage) and twitter @JennGotzon. Jenn says, "What a blessing to share how God is moving through the faith-based film movement across our country and how AMTC's ministry is a part of this journey. I look forward to meeting everyone and helping anyone who is being called to this industry."
For more information about auditions at AMTC please visit http://www.AMTCaudition.com