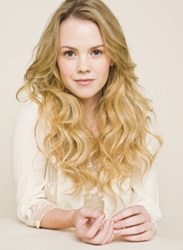 It's my job to audition well and it's up to them who gets the part.
Atlanta, GA (PRWEB) October 02, 2013
Abbie attended AMTC's SHINE Conference in the Winter of 2005 where she won Best Overall Actor and first place awards in commercial, scene study, cold read, and sitcom. She came back to AMTC the following Winter in 2006, and won first place awards in the commercial, monologue, Broadway singing, cold read, and scene study categories. Abbie signed with the Wallis Agency and moved to Los Angeles in 2007 where her career blossomed.
Most recently she landed a principal role in the comedy Moms' Night Out! (release 2014), co-starring with Sarah Drew and Trace Adkins. In The Umbrella Man, a drama about a couple's story of love, loss, paranoia and survival, Abbie plays Jackie O. She's been in several TV shows like her recurring role as Kimantha in Suburgatory, NCIS: Los Angeles, The Secret Life of the American Teenager, Two and a Half Men, 90210, StarStruck and Wizards of Waverly Place to name a few.
When Abbie made her first appearance on the set of 90210, both TV series fans and stars were shocked by her resemblance to Jennie Garth. Michael Steger (Navid Shirazi on 90210) said, "I walked into the table read and I thought she was Jennie Garth's daughter! She is Jennie Garth, it's crazy, the resemblance is mind boggling."
In 2007, Abbie moved to LA she says, "I was looking in books for advice. I was really looking for a moral compass that you need in a place like Hollywood: Do you have to give up your standards? Do you have to compromise? Is it ok to say no to something? How do you know what's dangerous or not?" Three years later, she decided that she could lend her information and wisdom to others, and wrote Stuck On a Ferris Wheel. With five-star reviews, one reader says, "I guess most think that they want to keep their secrets and that people should have to figure things out on their own. I think it is so great to have a successful working actor like Abbie share their story and advice." Another reader adds, "This book answered every question I've ever had about how to get an acting career in Hollywood. And it did it in a very straightforward, fun and funny way -- complete with self-deprecating stories where we learn via Ms. Cobb's mistakes."
Abbie is an avid speaker at events and has made several videos to help aspiring actors. AMTC is hopeful that she will be a Guest Star at their Winter SHINE 2014.
For more information about AMTC or to audition, please visit http://www.AMTCaudition.com.