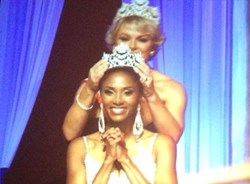 ...there are two things that I know, beyond a shadow of a doubt...that I will be put in a position to minister to teenage girls and young women all over the world...
Atlanta, GA (PRWEB) October 03, 2013
Adam She, AMTC's Executive Director, is an international Christian leader whose goal is to find, prepare and lift God's talent to influential positions in the entertainment industry. He says, "Bad is bold in the entertainment industry, so good must be BOLDER. It's time for God's stars to stand up on the stages of film, fashion, music and theater."
Adam's passion is to ignite a new generation of Christians to become men and women of action. He is excited to see AMTC success stories move into prominent positions on the mountains of arts, entertainment and media. He considers the mission field of media to be the most important mission on earth today.
Actors, Models and Talent for Christ has been the starting point for hundreds of successful artists and grads like 2013 Mrs. America, Austen Williams; Mary Charles Jones, IDENTITY THIEF; Maria Bradley, international fashion model, listed as one of the top 10 newcomers from this season now signed with DNA in NY and VIVA in Paris; Caitlin Kinney, choreographer for dance film PLATINUM and stunt double for Bette Midler in PARENTAL GUIDANCE (2013); Josh Murray, actor, THE MAN IN THE CAVE (2013), KILLING LINCOLN and FOR THE LOVE OF FISH; Stephen "tWitch" Boss from STEP IT UP REVOLUTION and SYTYCD judge and so many more.
Actors, Models and Talent for Christ Birmingham auditions are being held at the Hyatt Regency Birmingham - The Wynfrey, 1000 Riverchase Galleria , Birmingham, AL 35244, phone: 205.705.1234.
For more information about AMTC or to register for this event, please visit: http://www.AMTCaudition.com