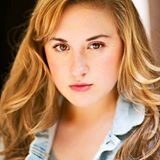 I want to be the 'light in this broken land.'
Atlanta, GA (PRWEB) October 05, 2013
This past summer, Actors, Models and Talent for Christ grad, Anna Howington, decided to write and produce an album with a friend. Next summer, 2014, she will go to to New York City on a $2,000 scholarship to learn from the NY Conservatory for Dramatic Arts. She won that scholarship at the AMTC SHINE conference in Orlando. In the meantime, she and her friend are finishing up the album and she has a lead part in LaGrange College's musical, Smokey Joe's Cafe — the first play in the college's brand new theatre. It will be showing November 6th-10th.
This 20-year-old Music and Theatre double major is also doing a gig with her aunt called 'Stories and Songs.' Anna says, "I'm taking things I learned from AMTC and using them to promote myself." She is using resources and getting good exposure for both the family gig as well as the album.
She won First Place in Overall Female Lifestyle Model out of 38 finalists and also received some very strong callbacks from agents like Cindy Wilt Colville of Creative Music Publishing, Brianne Webb of Tate Music Group, Anthony Reimer with New York Conservatory for Dramatic Arts and Crystal Bennett from Premier Models and Talent. Anna is currently signed with Tate.
Anna auditioned in Atlanta and was accepted to learn in its program leading up to the semi-annual conference called SHINE which is scouted by 50-100 top agents, managers, casting directors, and music professionals. These kings of Hollywood and Christian casting directors seek top talent and they find it at there.
For more information about an upcoming audition near you, please visit: http://www.AMTCaudition.com.