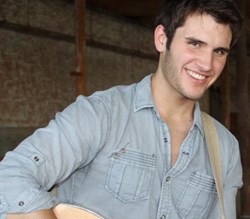 I hope that you can be encouraged and uplifted through my songs.
Atlanta, GA (PRWEB) October 08, 2013
Brandon Chase, an Actors, Models and Talent for Christ grad, sang a great rendition of Hunter Hayes' song WANTED.
Blake Shelton and Cee Lo Green were fighting to get Brandon. Cee Lo "finding a kerner of soul in the country song," but Brandon chose Blake as his coach.
So what's next? Lots of practicing with Blake.
Originally from Arlington, Texas, Brandon quickly became passionate about performing and speaking through songwriting just a few years ago when he was 14 years old. He began his musical journey playing drums, then turned to singing, then taught himself to play piano/keyboard the acoustic/electric guitar. He graduated from college when he was 17.
Brandon Chase auditioned in Dallas for Actors, Models and Talent for Christ (AMTC) in 2011 and was accepted into it's program. He showcased his talents in front of more than 85 agents and talent scouts from across the country at the Summer Shine Conference in 2011 and came out with amazing 26 callbacks. His mother writes, "We truly do need more positive role models in our entertainment industry. I believe you are placing many who are called by God to do just that…Shine for God."
For more information on AMTC or to register for an audition near you, please visit http://www.AMTCaudition.com.