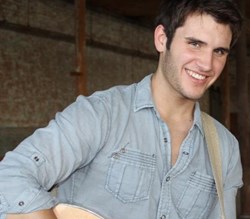 It's my personal dream to change lives through the music I write and perform.
Atlanta, GA (PRWEB) October 09, 2013
These exciting AMTC auditions will be hosted by Adam She or Carey Lewis.
Atlanta - Saturday, October 19, AMTC Atlanta, 2000 Powers Ferry Rd., SE, Suite 1-1A
Marietta, GA 30067, Phone: 800.STAR.420, 2pm audition only.
Athens - Monday, October 21, The Classic Center, 300 N. Thomas Street, Athens, GA 30601, Phone: 706.208.0900, 3pm and 7 pm.
Augusta - Saturday, November 2, Augusta Marriott at the Convention Center, Two Tenth Street, Augusta, GA 30901, Phone: 706.722.8900, 10am and 2pm.
Columbus - Monday, November 11, Marriott Columbus, 800 Front Avenue , Columbus, GA 31901, phone: 706.324.1800, 3pm and 7pm.
Adam is an international Christian leader whose goal is to find, prepare and lift God's talent to influential positions in the entertainment industry. Adam's passion is to ignite a new generation of Christians to become men and women of action. He is excited to see AMTC success stories move into prominent positions on the mountains of arts, entertainment and media.
Carey is the Chief Serving Officer for AMTC. She says, 'In our first 24 years, AMTC became a power player, launching stars in film, fashion, music and theater, but something was missing.' She discovered the 'It' was God.
Actors, Models and Talent for Christ (AMTC) has been the starting point for hundreds of successful artists and local stars, too, like: Seth Harden and Anna Leigh Howington from LaGrange; Diana DeGarmo, Snellville; Lindsey Blackwell, Atlanta and Brandon Cantilang, Locust Grove to name just a few.
For the past 30 years, non-profit Christian ministry AMTC has been scouting the country, searching for actors, models, singers, dancers and comedians who are called to become positive role models in the entertainment industry. AMTC teaches talented people what they need to know and connects them with an unprecedented array of talent agents, managers and casting directors as the "go-to" source who can create larger opportunities.
For more information or to register for any of these events, please visit: http://www.AMTCaudition.com.