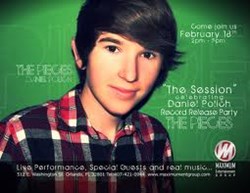 We...believe that there are wonderful things in store for [me], and it all started with AMTC!
Atlanta, GA (PRWEB) October 10, 2013
This past February, Daniel had the honor of performing at the 2013 Florida Music Festival. He was one of only a few hundred bands/singers who performed out of approximately 5000 who auditioned. He sang 3 original songs at the festival, and his performances are on YouTube.
Not only does Daniel sing, he has shot a couple of commercials for Universal Studios and one of the Disney Cruise Ships. His mother, Erin Polich, says, "He was also asked to be one of the featured singers in a pilot for a possible reality show called 'The Biz,' which is about young people trying to break into the music business. The "Sizzle" was shot at Maximum and has been sent to several TV networks by the producer and a syndicator who came up with the idea." No news yet, but they are waiting. If it is picked up by a network, they would be shooting the full pilot, as well as 26 episodes.
Daniel, a high school senior, and dual enrollment student at Valencia College is especially enjoying his college course, The Business of Music.
Daniel is pursuing his passion in music. Erin says, "We are trusting God to guide him and open doors when that time comes. We are so thankful that he got to participate in AMTC! He loved being part of it and AMTC just confirmed in him that passion that he has!"
AMTC teaches talented people what they need to know and connects them with an array of talent agents, managers and casting directors as the "go-to" source who can create larger opportunities, as confirmed by corporate representatives.
Erin adds, "Through AMTC, Daniel made several excellent contacts who have helped to direct him in the right way. One of those is John DeGrazio, who has given us a lot of advice on the business."
SHINE is scouted by 50-100 top agents, managers, casting directors and music professionals. These kings of Hollywood and Christian casting directors are looking for top talent and they find it there.
AMTC people help performers. Daniel's vocal coach at AMTC, Carla, hooked Daniel up with his current coach, Joshua Vickery. And at the SHINE conference is where Crystal Bennett picked up Daniel and is currently one of his agents.
For more information about AMTC or an audition, please visit http://www.AMTCaudition.com.