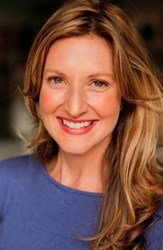 What a blessing to have received such incredible training through AMTC.
Atlanta, GA (PRWEB) October 17, 2013
From Dallas, TX, they auditioned for and attended AMTC's SHINE bi-annual conference in Orlando, Florida - just a year and a half ago. Now, Logan, the eldest son is not only doing commercials, but shooting film as well. All four kids have shot national commercials and their parents, Luke and Shannon book regular print ads as well.
According to an AMTC team leader, she says that "In addition to talent, they are one of the best family's I have worked with or met. They are true examples of walking it out as a mission field!" The Burton's are currently with Clutts Agency, in Dallas.
Just a short month after attending the Winter 2012 SHINE conference, the Burton family signed with The Clutts Agency went on an audition that brought over 450 people. The whole family booked a print ad for YJ USA (a trampoline company). In fact, Tag, the youngest boy, was considered too young to audition, but when they brought him along he ended up getting most of the camera attention. The family also booked a broadcast commercial.
They have been busy shooting commercials for: Mazzio Pizza, Chuck E Cheese, Beall, JC Penney and Supersoaker too name just a few.
The family was also involved in the filming of "8 DAYS" - an independent film bringing awareness to child sex trafficking. Shannon says, "What a blessing to be involved in such an incredible film...Praying that God will do awesome things in and through this film." And she explained that the "cast and crew...hope to...provide safe houses for the children that are rescued from this crime."
Faith Anna played a kidnapped child, Luke portrayed a Homeland Security Officer, and Shannon was the Doctor who admits Amber after she has been rescued.
For more information about AMTC or to register for an audition near you, please visit: http://www.AMTCaudition.com.