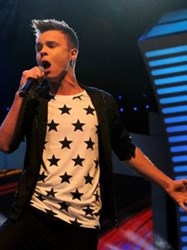 I just want to be seen and noticed for what I can do and what I will do, one day.
Atlanta, GA (PRWEB) October 18, 2013
When he arrived at SHINE in Orlando, Florida and made some new friends, they told him that he needed a stage name that more people could pronounce. The name Johnny Apple from the infamous Johnny Appleseed stuck.
Johnny Apple was 10 years old when he started to sing. He grew up in a musical family but it was dance classes that got him into singing. Peers from his Latin American dance class kept telling him that he had a good voice, so he followed their prompting and discovered his greatest passion.
Johnny says his dreams are very simple; all he wants to do is sing! So he auditioned for SAGT and went straight to the top.
During the semi finals, he received a standing O from all three judges and the entire crowd when he belted out James Brown's "This is a man's world." The judge said, "I cannot remember in the last 25 years ever seeing somebody as young as you with such a magnificent voice, extraordinary musicality and … passion." Apple stood on stage soaking it all in.
The final competition he sang Curtis Mayfield's "It's Alright" and had the judges saying, "such sensitivity in your voice and so much soul" and "you are the right talent on the right stage at the right time. And this is going to trampoline you into a huge future."
Johnny finally got the judge to say the popular yet hard to come by catch phrase "You Are Fan-tas-tic" which the entire crowd joined in shouting.
AMTC, a 501c3 non-profit ministry dedicated to making good bolder in film, fashion, music and theater, is currently holding auditions in major cities across the country for the next official SHINE talent showcase being held in January 2013 at the Gaylord Palms. They are looking for performers ages 4 and up who want to become positive role models in the entertainment industry.
For more information, please visit: http://www.amtcaudition.com.