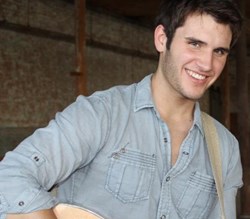 I'm truly in love with music. I don't consider it a job, hobby, or anything else. It's really just my life.
Atlanta, GA (PRWEB) October 23, 2013
Speaking right after the round, Actors, Models and Talent for Christ Grad, Brandon Chase, was asked what he's learned from working with Blake. He responded, "Be yourself. As soon as you start being someone you're not, that's when you'll fail. I'm going to continue to be myself throughout the competition." He added, "I'm definitely excited. It's a song that I've played a few times so I feel comfortable with it and I hope to bring something unique and special to it."
We don't yet know the song but we'll find out next week.
The knockout rounds – a sudden-death matchup where contestants choose their own songs – began this week on NBC. We can look forward to a new twist: each coach has one more steal for the upcoming round.
Brandon Chase auditioned for Actors, Models and Talent for Christ (AMTC) in Dallas, performed at the Summer Shine Convention in 2011 and came out with amazing 26 callbacks from agents and scouts all over the country. His mother writes, "We truly do need more positive role models in our entertainment industry. I believe you are placing many who are called by God to do just that…Shine for God." Actors, Models and Talent for Christ (AMTC) has been the starting point for hundreds of successful artists.
Brandon says, "Remember, nothing is impossible! Allow God to direct you and you will live with purpose and your heart will be full of joy."
Remember to watch NBC's The Voice every Monday and Tuesday this season.
If you have any questions about Actors, Models and Talent for Christ, please visit:
http://www.AMTCaudition.com