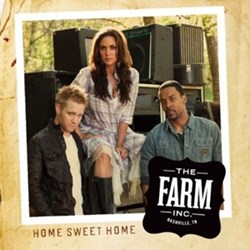 Success without significance is kind of futile to me.
Atlanta, GA (PRWEB) October 25, 2013
Right after high school graduation, Damien who grew up in a family of 12, got on a greyhound bus and followed his dreams to Hollywood. "I found myself homeless after a bit … and about a year and half later I was back in North Carolina. Then I headed to Nashville."
Damien has collaborated with artists like: Kid Rock, The Neville Brothers, Bon Jovi, Hank Williams Jr., Keith Urban and many more.
The Farm formed with three individual writers about three years ago and they ended up forming a band. Damien says, "We're making our kind of country music. By that I mean that we're so different individually. Krista has a classical background. Nick is old school country, me, I grew up in old gospel and soul. We have different backgrounds of music genres and we merge them to make our kind of country."
And this group is not just about singing, they believe in giving back to the community as well. They practiced "Random Acts of Kindness" by paying for people's lunches and donut treats in Greenville, N.C. It started with the song "Be Grateful" which they ended up recording.
When he completed his first album, producer Big Kenny of Big and Rich said, "I have never met a more important artist for our times, completely real, unique, deserving and uplifting. I cannot stop until the world hears his music. He writes, he sings, he plays piano and guitar, he dances like 'the man' and you know it when he backflips off the stage in a way that would make James Brown proud."
AMTC was so glad that Damien did not give up and that it was able to encourage him to keep going with his career. Visit http://www.AMTCaudition.com if you'd like more information about an audition or this non-profit ministry.