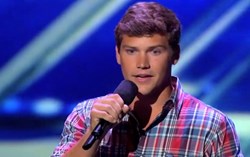 Singing is and has been my passion ever since I was little.
Atlanta, GA (PRWEB) October 28, 2013
Restless Road consists of Andrew Scholz from Summerville, SC, Colton Pack from Danese, WV and Zach Beeken from Indiana, PA. They have really gelled since coming together as a group. They all enjoy boating, fishing and wake boarding. And a funny thing is, their favorite food is bacon. This bonding is what Simon was hoping for when he asked them to become a band. "We all really just love to live the simple life," says Andrew. They went fishing, horseback riding and hung out together at his place in SC.
Three summers ago, Andrew participated in the Actors, Models and Talent for Christ bi-annual SHINE conference. He went with a regional affiliate, Millie Lewis Modeling Agency of Greenville, SC.
The X-Factor live shows will begin on October 29, 2013.
Let's see if Demi Lovato will get "chills all over my body." We know that all four judges love the group and that Paulina Rubio especially loves that "your different vocal blend so well...you are amazing."
With the X-Factor's live shows beginning on October 29, 2013, we will see how far Andrew Scholz and the Restless Road goes. They are competing against Girls United, Wild Thingz and Glamour in the Groups category.
If you want more information about how Andrew auditioned for Actors, Models and Talent for Christ, just visit AMTCaudition.com. There is a list of upcoming auditions for 2013 and the first few months in 2014. AMTC is a 501c3 non-profit ministry.