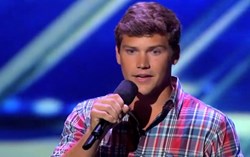 I am a local singer/songwriter in the Summerville area. Singing is and has been my passion ever since I was little.
Atlanta, GA (PRWEB) December 05, 2013
Restless Road consists of Andrew Scholtz, from Summerville, SC, Colton Pack from Danese, WV and Zach Beeken from Indiana, PA. They competed against Rion Paige, Ellona Santiago, Carlito Olivero, Jeff Gutt and Alex and Sierra.
Restless Road DID impress and brought tears to Demi Lovato. The crowd, as always, loved them and awarded them with a standing ovation. For the show's "unplugged" round, the trio stripped down the Avicii dance track, turned it into country song and each judge mentioned the finals to them. Next week the X-Factor contestants will be whittled down to 4 performers for the semi-finals.
Three summers ago, Andrew participated in the Actors, Models and Talent for Christ bi-annual SHINE conference. He went with a regional affiliate, Millie Lewis Modeling Agency of Greenville, SC.
Others AMTC performers who have gone on to compete in National shows, are: Mathai, and Brandon Chase - The Voice; Caitlin Kinney and Twitch - So You Think You Can Dance; John Montes with TEN on The Sing Off, premiering Dec.9th, just to name a few.
For more information about how to audition for Actors, Models and Talent for Christ, just visit AMTCaudition.com. There is a list of upcoming auditions for 2014 as well as information about their bi-annual convention, coming up in January. AMTC is a 501c3 non-profit ministry.