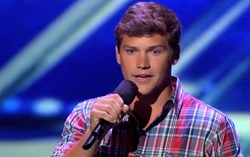 Singing is and has been my passion ever since I was little.
Atlanta, GA (PRWEB) December 12, 2013
Restless Road consists of Actors, Models and Talent for Christ's Andrew Scholtz, from Summerville, SC, Colton Pack from Danese, WV and Zach Beeken from Indiana, PA. Last night they sang duets and America's choice for them. They competed against Alex and Sierra, Carlito Olivero and Jeff Gutt. They all sing tonight and are voted to go on to the Finals or to go home.
America's Choice Song for Restless Road was, "That's My Kind of Night" by Luke Bryan. They were all so excited about the choice and Colton said that "we all wanted to be someone like Luke Bryan growing up."
The crowd, as usual, was cheering so loudly you could hardly hear them sing, but the judges had mixed reviews of the performance. Demi said, "it just didn't do it for me." But when they sang their duet song, The Police's "Every Breath You Take," with/against Jeff Butt, they stayed true to their roots and vocal strengths and impressed the judges with their country rendition of a very traditional Rock song.
Three summers ago, Andrew participated in the Actors, Models and Talent for Christ bi-annual SHINE conference. He went with a regional affiliate Millie Lewis Modeling Agency of Greenville, SC.
Others AMTC performers who have gone on to compete in National shows, are: Mathai, and Brandon Chase - The Voice; Caitlin Kinney and Twitch - So You Think You Can Dance; John Montes with TEN on The Sing Off, which premiered Dec.9th, just to name a few.
Actors, Models and Talent for Christ, a 501c3 non-profit ministry, has a list of upcoming 2014 auditions up on their website http://www.AMTCaudition.com and are preparing for their bi-annual convention in Orlalndo, FL.
Get ready to vote tonight for the X-Factor on Fox 7/8c. The site mentions that voting is open until 10pm tonight.