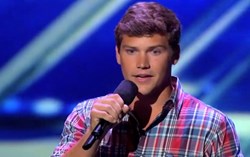 I am a local singer/songwriter in the Summerville area. Singing is and has been my passion ever since I was little.
Atlanta, GA (PRWEB) December 20, 2013
Too many to list, a few of the big-name agencies that will be gracing the halls at SHINE and the talent showcases are:
Kitty Bundy with Presence Models & Talent (Atlanta)
Tootie & June Debenedetto of Sweetheart Records (Connecticut)
Crystal Bennett from Premier Models & Talent (Florida)
Misty Griggs of Advantage Models & Talent (Nashville)
Nichole Porges with Bella Agency (LA)
Nate Butler of Do Good Entertainment/America's Got Talent (Atlanta)
AMTC teaches talented people what they need to know and connects them with this unprecedented array of talent agents, managers and casting directors as the "go-to" source who can create larger opportunities. This week is a like no other for up and coming performers to showcase their talents.
For the past 31 years, non-profit Christian ministry Actors, Models and Talent for Christ (AMTC) has been scouting the country, searching for actors, models, singers, dancers and comedians who are called to become positive role models in the entertainment industry.
AMTC is a mission and a movement that provides aspiring performers with professional direction, industry introductions and spiritual preparation so they can shine for Christ in the entertainment industry. Carey Lewis, Chief Serving Officer for AMTC says, 'God is preparing an army of performers and AMTC's job is to find them and guide them up the mountains of arts and entertainment.'
AMTC has been the starting point for hundreds of successful artists and grads like X-Factor's Restless Road Andrew Scholz, Mathai, Taylor Beckham and Brandon Chase on The Voice, Two America's Next Top Models (CariDee and Whitney Thompson), Stephen "tWitch" Boss from Step It Up Revolution, Ashley Scott in the Holiday Road Trip and AMTC coach and team leader, John Montes, currently in the a cappella group TEN on NBC's The Sing Off.
To read more about these artists or see the complete list of VIPs, visit http://www.AMTCworld.com and http://www.amtcworld.com/our-event/agents-vips.