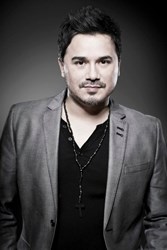 Be thankful for whatever you are going through. As a performer you need to.
Atlanta, GA (PRWEB) December 26, 2013
John "Jontez" Montes is AMTC's L.A. Team Leader, scout and vocal coach. He just performed on NBC's reality show The Sing Off as part of the a cappella group TEN. This eclectic group of men and women are friends who met in Dallas. Most of these members have toured with well-known artists as background singers. They are also established singers willing to put their careers on the back burner and let their talents propel them to the forefront. With a passion for gospel music, they had faith that their group would take the stage by storm! And that is exactly what happened.
John will be at the AMTC SHINE conference in Orlando, Florida next week. This bi-annual event runs Dec. 31 - Jan. 5, 2014. He will be helping out the performers who he has been coaching over the last 6 month to showcase their talents in front of 60-80 top national agents, talent scouts, managers, casting directors, and music professionals. These kings of Hollywood and Christian casting directors seek top talent and they find it at SHINE.
AMTC's grad, Andrew Scholtz is part of the X-Factor's new group Restless Road along with new partners and friends, Colton Pack and Zach Beeken. They did not make it to the finals, but their career is skyrocketing now. And all three boys agreed that they were doing this not just for themselves, but their families and their towns and are excited to spend some down time now with them.
Three summers ago, Andrew participated in the Actors, Models and Talent for Christ bi-annual SHINE conference. He went with a regional affiliate Millie Lewis Modeling Agency of Greenville, SC.
Others AMTC performers who have gone on to compete in National shows, are: Mathai, and Brandon Chase - The Voice and Caitlin Kinney and Twitch - So You Think You Can Dance.
Actors, Models and Talent for Christ, a 501c3 non-profit ministry dedicated to making good bolder in film, fashion, music and theater. There is a list of upcoming 2014 auditions on their website http://www.AMTCaudition.com and information about the bi-annual conference in Orlando, Florida.