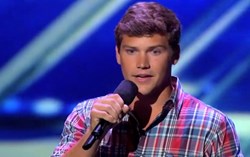 I am a local singer/songwriter in the summerville area. Singing is and has been my passion ever since I was little.
Atlanta, GA (PRWEB) January 01, 2014
Johnny Apple, Brandon Chase, Andrew Scholz and Ben Stillwell are just a few AMTC performers who are enjoying the fruits of their labor.
Johnny Apple won first place on South Africa's Got Talent (SAGT) and received R250,000 ($25,500). Johnny attended AMTC's SHINE summer conference in 2013, where he won overall teen singer. He lives in George, South Africa, a small city on the Western Cape. Johnny says his dreams are very simple; all he wants to do is sing! He auditioned for SAGT and went straight to the top earning the catchphrase "You Are Fan-tas-tic!" The judge said, "I cannot remember in the last 25 years ever seeing somebody as young as you with such a magnificent voice, extraordinary musicality and … passion." Apple stood on stage soaking it all in.
Andrew Scholz, part of Restless Road -- the male, country trio group, created by Simon Cowell on the X-Factor, made it to the semi-finals; Brandon Chase was most recently on NBC's The Voice and made it to the knockout round; Ben Stillwell is recurring on Disney's Lab Rats and Shake it Up and is under contract with Disney XD right now for a lead in another pilot.
There are many, many more success stories on the AMTC website.
During the year, AMTC screens talented people in several cities across the USA who audition for it's program in which the performers' talents culminate at the SHINE conference. AMTC teaches what they need to know and connects them with agents and managers who can then create larger opportunities for the performers.
Carey Lewis, Chief Serving Officer for AMTC, says, 'AMTC has become a shepherd of God's movement into media: the most influential mission field on earth. God is preparing an army of performers and it's AMTC's job is to find them and guide them up the mountains of arts and entertainment.' Next week, hundreds of performers will showcases their talents and start climbing!
AMTC, a 501c3 non-profit ministry dedicated to making good bolder in film, fashion, music and theater, is hosting it's bi-annual conference Dec. 31 to Jan.5, 2014 at the Gaylord Palms Resort in Orlando, Florida.
For more information about auditioning for AMTC and performing at SHINE, visit http://www.amtcworld.com.