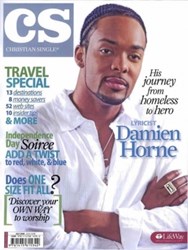 AMTC was amazing. It reaffirmed what God put in me to do.
Atlanta, GA (PRWEB) February 19, 2014
Each audition is hosted by a scout who is both trained in spotting emerging talent and equipped to inspire performers to a higher calling in the world of entertainment. AMTC's scouts are industry professionals who believe in mentoring the next generation of upcoming artists. After this initial scouting event, select talent will be invited to participate in more intensive programs and training.
One very special scout is award winning actress Jenn Gotzon. She is also a presenter and mentor for AMTC. Her career break portraying President Nixon's daughter Tricia Nixon (cameo) in Ron Howard's Oscar-nominated "Frost/Nixon" launched her as an American leading lady starring in seven films released last year including Vatican endorsed mysterious romance-thriller "Doonby" opposite John Schneider and French and Indian War true-story "Alone Yet Not Alone." Gotzon, "who is compared to a young Meryl Streep for her chameleon-like transformations," stated by Valley Social Magazine, strives to make a difference in people's lives through the roles she plays on and off screen. She developed a motivational mentor-outreach program, "Inspiring audiences," where she speaks to high school students, screens her movies and shares her journey on overcoming life's obstacles pursuing her dream to educate and encourage how they, too, can follow their heart's desire and live their dreams.
Adam She, AMTC Executive Director, also scouts for 'a new generation of Christians to become men and women of action." Adam is an international Christian leader whose goal is to find, prepare and lift God's talent to influential positions in the entertainment industry. He says, 'Bad is bold, so good must be bolder. It's time for God's stars to stand up on the stages of film, fashion, music and theater, and in sports-to present positive role models that people can follow.'
AMTC has been the starting point for hundreds of successful artists and grads like Mathai - The Voice Season 2, Noah Urrea - The Identical and See Dad Run, Charles Michael Davis - commercial model for Nike and actor in Switched At Birth and Another Stateside, Stephen "tWitch" Boss - Step It Up Revolution, Ben Davies - COURAGEOUS and many more.
AMTC teaches talented people what they need to know and connects them with an unprecedented array of talent agents, managers and casting directors as the "go-to" source who can create larger opportunities, as confirmed by corporate representatives.
Participants can register for an audition at http://www.AMTCaudition.org.