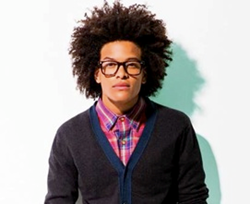 I just try to keep my focus on God's vision. Because He has not steered me wrong. My entire life.
Atlanta, GA (PRWEB) February 25, 2014
Dr. Diane Preston-Reilly, President/Executive Producer of Challenger Films, Inc., says, "I have filmed over 300 youth representing a variety of talents from football to rock climbing. Tyler was chosen as a representative of the arts. He was one of the best students I have worked with."
Griffin's story airs nationally this weekend on FOX top markets and in syndication elsewhere. His profile is showing all week on http://www.realwinningedge.com. Click on "Featured Celebs/Youth" on the top of the site for descriptions of several youths. Tyler's profile, #524, will air tomorrow and again in August. See the website for a listing of stations and times.
Tyler attended Actors, Models and Talent for Christ's Summer 2012 SHINE program where he won overall winner for Male Commercial Model, was a finalist for Adult Singer and was in the On Camera Acting Finale.
Tyler says, "If it wasn't for AMTC, I would never have been able to attend the New York Conservatory for Dramatic Arts. I think it's definitely an amazing program and it's changed me as a person and as an artist because now I have a lot more passion and direct vision on who I want to be as an actor and who God wants me to be and what He wants me to do."
Tyler also started a non-profit organization called Fit To Flow. He says, "We're a group of seven artists who want to make a difference and raise funds and awareness for the arts in the community because of budget cuts. We want to get physically involved."
For more information on AMTC, please visit http://www.AMTCworld.com.