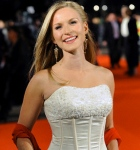 I always want to do movies where I can really impact or inspire audiences through the art of storytelling.
Atlanta, GA (PRWEB) April 04, 2014
AMTC is a non-profit ministry dedicated to making good bolder in film, fashion, music and theater. Through a unique faith-based educational program, AMTC teaches performers how to become positive role models in the entertainment industry, then introduces them to top media executives through its international talent conference called SHINE.
The Denver auditions will be hosted by Head Scout, Jenn Gotzon who is an AMTC Presenter, Mentor and Hollywood actress. Award winning actress Gotzon, "who is compared to a young Meryl Streep for her chameleon-like transformations," stated by Valley Social Magazine, strives to make a difference in people's lives through the roles she plays on and off screen.
She's starred in Frost/Nixon, Doonby, Alone Yet Not Alone to name a few, and travels the country speaking to high school students with her motivational mentor-outreach program, "Inspiring Audiences".
Jenn will be joined by a professional AMTC team offering a free information session followed by personal auditions. Auditions will be held at the Crowne Plaza Denver International Airport, 15500 East 40th Avenue , Denver, Colorado 80239, Phone: 303.371.9494 at 10am and 2pm. Actors, models, singers, dancers, ages 4 and up, along with anyone interested in furthering positive entertainment, are welcome to attend.
For more information or to register for this audition, please visit AMTCaudition.org or call 678-783-0500. Also, visit AMTCworld.org to see hundreds of success artists and read inspiring God Stories.