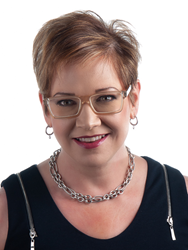 "We're helping customers take advantage of the fact that most people are watching TV with smartphones and other devices in hand, and helping to maximize that at the most valuable time: the micro-moment," said Amy Bobchek
ST. LOUIS (PRWEB) June 12, 2019
Advocado, the SaaS company transforming linear TV advertising into a real-time bidding trigger for search and digital advertising, announced today that 22+ year media industry veteran Amy Bobchek has joined the company as Chief Revenue Officer. Bobchek was most recently a Director of Sales for Comcast Spotlight where she was the go-to expert in acquisition and sales partnerships. Her efforts, along with her team of 50+ contributors, took Comcast Spotlight to the number one position in the greater DC metropolitan area.
"We're beyond thrilled to have Amy join the Advocado family. She has a proven track record of building mutually beneficial partnerships that help both parties achieve results," said Brian Handrigan, Co-Founder and CEO of Advocado. "She brings to us unmatched media and advertising expertise and is the best person to enhance our client relationships. She joins our passionate team at the perfect time to spearhead our growth targets."
At Advocado, Bobchek will be responsible for leading the strategic increase in revenue through sales and marketing. Advocado is in its growth stage of transforming the advertising industry. Advocado's technology programmatically adjusts advertisers' search keyword bids so paid ads reach the top of consumers' search results during and shortly after the airing of the broadcast commercial. By increasing bids during this valuable micro-moment, Advocado Activate is able to increase both premium ad position and visibility, which leads to better engagement and lead generation. Advocado continually analyzes a real-time data stream in order to attribute online activity to TV commercials, building a better understanding of digitally engaged audiences before, during and after a TV commercial piques someone's interest.
"Advocado is enabling the opportunity for TV and digital to amplify each other by going beyond attribution and actually impacting the search behavior of people exposed to a TV commercial. We're helping customers take advantage of the fact that most people are watching TV with smartphones and other devices in hand, and helping to maximize that at the most valuable time: the micro-moment," said Bobchek. "I'm looking forward to helping our clients supercharge their cross channel efforts through long term partnerships."
About Advocado
Headquartered in St. Louis, MO, Advocado helps brands quantify and increase the impact of their advertising by transforming broadcast TV ads into real-time bidding triggers for search advertising and performance-based media that works alongside their existing digital campaigns. Our platform helps advertisers reach a trifecta: increased campaign effectiveness, enhanced ROI and accurate cross-channel attribution measurement. For more information, please visit https://www.myadvocado.com.