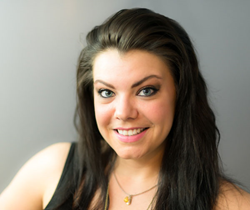 We're so excited to have Amy on the team. Her enthusiasm and expertise are a perfect complement to the team at Idea.
Plainfield, IL (PRWEB) May 08, 2014
Idea Marketing Group is proud to announce the addition of Amy Larrick to the Idea staff. Amy will be managing marketing and public relations efforts with the marketing team at Idea. "We're so excited to have Amy on the team. Her enthusiasm and expertise are a perfect complement to the team at Idea," says Darren Fox, president of Idea.
Amy completed her Bachelor of Fine Arts in Interior Design from Harrington College of Design. What started as a food server job while still in school grew into a flourishing career with Phil Stefani Signature Restaurants and Events. Her combined talents with design and branding coupled with her passion for food and hospitality became a winning combination for the restaurant group. Amy was most recently responsible for overseeing all public relations, advertising and web development as Marketing Director. Amy's knowledge of the industry and passion for her work will be a great asset to Idea.
A strong work ethic combined with an adventurous spirit drives Amy to research new and innovative ways to market a client's products and services. She uses these skills to develop creative solutions to attract new and loyal customers.
Her experience covers everything from media buying to brand development to comprehensive database management and email marketing. She's managed the development of brand strategy through website redesigns, print advertising, radio, and social media, along with the execution of new business proposals. In addition, she has coordinated and executed numerous external promotional events to build brand awareness.
A foodie at heart, Amy loves dining out at restaurants, as well as cooking at home. She's always been courageous with food and enjoys trying new ingredients and flavors. The same can be said for her approach to marketing and advertising. After living in the city for 11 years, she now considers Chicago home.
Idea Marketing Group is a web design and marketing firm with offices in Chicago and Plainfield, IL. Since 2009, Idea strives to provide creative, unique and cutting-edge websites and individualized goal-driven marketing. Clients choose Idea Marketing for award winning web design and marketing services from an experienced and passionate web team that helps grow businesses. To learn more about Amy or Idea, visit http://www.ideamktg.com or call 312.834.7001.