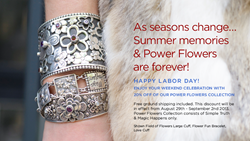 Amy Conway Power Flowers are always elegant and relevant.
New York, NY (PRWEB) August 30, 2013
A designer, artist, and poet, Amy Conway unities her art and poetry into her intricate sterling silver jewelry collections. Each piece reflects her appreciation for life and love and spreads a message that is very relevant in today's fast paced world, to love and respect yourself as well as others.
Enjoy your Labor Day celebration with 20% off the Amy Conway Power Flowers Collection. Free ground shipping is included and this discount will be in effect from August 29th-Septemmber 2nd. The Power Flowers Collection was inspired by rose petals, which Amy used in a painting. Power Flowers symbolizes love, the founding principle of the universe. The pieces in the Power Flowers Collection carry this message close to our hearts.
Amy Conway is paving a path that not only creates opportunities for those in need, but also opens the hearts of many. She created the Love Truly Matters Foundation in which a portion of the revenue generated from all sales is donated. The mission of the foundation is to support organizations that empower women and girls around the world.