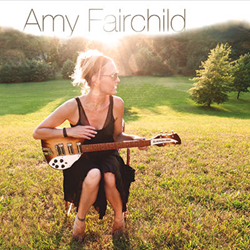 "If this stone-cold roots-pop beauty doesn't catch on, it's everybody's else's fault" - Goldmine
New York, NY (PRWEB) October 15, 2014
Award-winning singer/songwriter Amy Fairchild's long awaited fourth album is already living up to the standard of excellence that has earned her accolades in local and national press. The self-titled release builds upon an already highly impressive repertoire that's won numerous awards and critical acclaim, including grand prizes at The John Lennon Songwriting Competition and The Billboard World Song Contest. Fairchild's latest album is swiftly gaining attention for its melodic hooks and "razor-sharp" lyrics.
Saturday, November 1
Amy Fairchild Band and Simon Kirke (of Bad Company)
Rockwood Music Hall
196 Allen St, New York
$15 / Age limit: 21+ / 7PM
http://www.ticketfly.com/event/623479
Fairchild's impressive career in music began in 1994 with her first album, She's Not Herself, and she has continued to attract attention to her unique blend of folk, rock, and pop since its release. With a voice drawing comparisons to Sheryl Crow, the combination of Amy's vocal and songwriting expertise makes for an intimate and introspective listening experience. Amy Fairchild isn't afraid to put it all out there with confessional and personal lyrics; however, her latest release has proven to be less literal and leaves more for the listener's interpretation. There's something to be said for the pop sensibilities that are present on the album when packaged with Fairchild's own brand of folk. In fact, The Boston Globe described it as "a hooky swirl of country, folk and pop goodness."
Fairchild claims "this record almost killed me… but in the end I wouldn't change a thing. I'm really, really proud of it." The album came together over the course of the past three years and was made possible with two fundraising campaigns. The album is complete with guest appearances from Jon Graboff (Norah Jones, The Cardinals, Ron Sexsmith) and Jim Weider (The Band). Amy Fairchild was produced by Adam Steinberg and mixed by Paul Kolderie (Pixies, Radiohead). The album was recorded at Woolly Mammoth Studios (Waltham, MA), Clubhouse (Rhinebeck, NY), and Kissy Pig Studios (Allston, MA).
You can learn more about Amy Fairchild at http://amyfairchild.com
For more information, images, or to arrange for an interview with Amy Fairchild, please contact Melissa Zeigler at Powderfinger Promotions: melissa(at)powderfingerpromo(dot)com.
Powderfinger Promotions–Independent Radio Promotion and Publicity. Since being founded in October 1994, Powderfinger has come to be regarded as a top indie radio promotion and publicity firm with ties across North America.