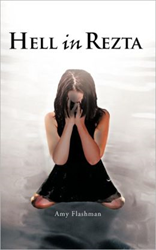 Berkshire, England (PRWEB) July 30, 2015
Amy Flashman's debut fantasy, "Hell in Rezta" (published by AuthorHouse UK), came to her in a dream when she was 14-years-old. She now hopes to bring her story to a larger audience with a new marketing push, which includes additional press materials.
Shana Hale hasn't had the best life. Her father, a violent alcoholic, fakes concern for her when in the public eye, turning into a monster behind closed doors. This changes, when fate throws her the opportunity for a new beginning – in the afterlife.
Now, in the land of Retza, Shana must save the world from Morphius, a dark being who intends on controlling Retza. Throughout her journey she will encounter death, friendship and love, all while tapping into magical powers she never knew existed.
An excerpt from "Hell in Rezta":
"My body froze as I heard my father's voice come booming up the stairs, echoing threateningly and stealing me away from my thoughts. He'd been hitting the bottle again of course. He always comes home drunk, and then he attacks me. The hospital doesn't believe me when I come in with my various injuries. Who would though?"
"Hell in Rezta"
By Amy Flashman
Softcover | 5 x 8 in | 372 pages | ISBN 9781477226155
E-Book | 372 pages | ISBN 9781477226162
Available at Amazon and Barnes & Noble
About the Author
Amy Flashman grew up in Crowthorne, England and has lived there since she was born. She currently lives with her sister, elder brother and parents. She began writing "Hell in Rezta" when she was 14 years old.
AuthorHouse UK Ltd., an Author Solutions, LLC self-publishing imprint, is a leading provider of self-publishing, marketing, and bookselling services dedicated to serving authors throughout the United Kingdom. AuthorHouse UK is committed to providing authors the best self-publishing experience through a wide array of products and services designed to help individual authors realise their unique creative vision. AuthorHouse UK assigns each author a personal publishing, marketing, and book consultant to provide professional guidance throughout the self-publishing process. To date, AuthorHouse UK has released more than 6,500 titles. For more information or to begin publishing a book today, visit authorhouse.co.uk or call 0800 1974150 or follow @AuthorHouseUK on Twitter for our latest news and updates