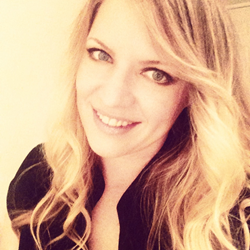 "The fear we resist only grows stronger. The fear we accept will over power us. But the fear we care for and watch over as an immanent danger is the fear that dissolves in the presence of Truth." -Amy Larson, 'Inner Freedom Is Hot'
Phoenix, AZ (PRWEB) October 08, 2014
Amy Larson, author of the "daily hot! quote" at amyjalapeno.com, is publishing a book comprised of unorthodox views on spirituality titled,'Inner Freedom Is Hot'. The content of the book contains selected blog entries from the past two years, including expanded insights never before published on her website. It launched 10/1/140on Kickstarter, and will hope to fund on 11/05/14.
The Kickstarter project has various funding levels (or packages) available for purchase. They include one or more of the following: an eBook package, coffee table hardcover copy, 'hot! quote' coffee table cards, and/or t-shirt to promote inner freedom.
Amy does not have an educational degree. She does not claim to be an expert in psychology or any behavioral science. Her only assertion is that she has been an excellent critic and student of her own experiences and observations, while supporting others in being/doing the same.
About Amy Larson:
Amy is the sixth of ten children and despite the impoverished and sheltered upbringing, her parents were loving, honest, hard-working people. She was born into The Church of Jesus Christ of Latter-day Saints; and at the age of twenty-three, Amy, her husband, and their two children left the church to join a fundamentalist polygamist group.
Two years later she left the group, taking her children with her (the youngest only a month old). She also left her parents, half her siblings, and her husband with his second wife. Amy was destitute and a single mother of three, relying on minimum wage jobs and the kindness of a few family members outside the group.
Frustrated and struggling to make ends meet, yet determined to make it on her own, she naively turned to female escorting in an attempt to provide a better (financial) life for her children. She endured the occupation for seven months, until the escort service booked her with a date that could have turned fatal had she played the terrifying hour differently.
She not only mentally, physically, and spiritually pulled through those experiences, but discovered a part of herself that (she claims) nothing can touch or destroy.
The Kickstarter publishing project, 'Inner Freedom Is Hot' "...contains only a fraction of my insights," she says, "and other publications are inevitable."