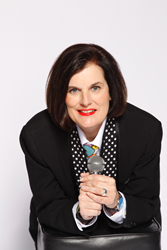 Paula Poundstone is the funniest human being I have ever known. - "Wait, Wait..." Host, Peter Sagal
SAN RAFAEL, Calif. (PRWEB) April 01, 2019
Paula Poundstone returns to the Osher Marin JCC in San Rafael at 8 p.m. Saturday, May 11. The evening offers the incredible opportunity to experience the magic and hilarity of Paula Poundstone in the intimate 500-seat Hoytt Theater rather than her usual 2,000-seat venues. A rare opportunity, this special evening is co-presented by the Other Café Comedy Showcase and The Kanbar Center for the Performing Arts at the Osher Marin JCC.
Paula Poundstone is one of the country's preeminent comedians, known for her smart, observational humor and spontaneous wit that has become the stuff of legend. She tours regularly, performing over 85 shows a year.
Her new weekly podcast for Maximum Fun, Nobody Listens to Paula Poundstone, is a comedy field guide to life. Each week Paula and her co-host, Adam Felber, a friend and fellow panelist on "Wait Wait…Don't Tell Me!" bring on leading expert guests and use their unique comedic sensibility to help navigate life in the 21st century. Along the way, Paula attempts to explain existence through her kaleidoscopic perspective, and Adam tries to interject some rationality.
On stage, Poundstone is known for her casual style, smart and observational humor, and a razor-sharp, spontaneous wit that was become the stuff of legend. Her performances leave folks marveling at her ability to interact with the audience and the resulting hilarity.
What: Hysterical, spontaneous, surprising, smart comedy.
When: Saturday, May 11, 2019 at 8 p.m.
No Host Concessions: 6:45 p.m.; Doors Open 7 p.m.; VIP Reception at 7:15 p.m.
Tickets: From $32.50 to $74.50 with 4 tiered seating options.
Reserved VIP seating includes a pre-event private artist's reception.
Where: The Osher Marin JCC – Hoytt Theater
200 N. San Pedro Road,
San Rafael, CA 94903
415.444.8000
More: Concessions include beer, wine, sodas, Peet's Coffee, Numi Teas, Sweets & Savories.
More Info Available at JCC website (http://www.marinjcc.org/arts)