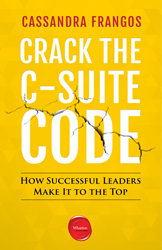 "A lean and bracingly straightforward look at the core paths to the executive suite."—KIRKUS REVIEWS
PHILADELPHIA (PRWEB) September 20, 2018
This year has been a big one for stunning C-suite shake-ups. PepsiCo's longtime chief Indra Nooyi and WPP's Martin Sorrell both announced surprise departures. Lowes installed a new CEO and rapidly eliminated four top team roles. And Facebook unveiled its biggest executive reshuffle ever with most of its top team moved around or reassigned. The pace of change at the top has always been frantic but this level of upheaval is unprecedented.
Is this a blip on the radar or simply the new normal for career executives? Cassandra Frangos tackles this and many other timely topics in her new book CRACK THE C-SUITE CODE: HOW SUCCESSFUL LEADERS MAKE IT TO THE TOP. (Wharton Digital Press; March 6, 2018).
The perfect guidebook for executives on the rise and organizations that need to manage their top talent in tumultuous times, CRACK THE C-SUITE CODE combines expert analysis and first-person accounts from CEOs to present four scenarios for C-suite success while also highlighting how to avoid the negative surprises that can occur along the way. A consultant at Spencer Stuart and past leader of Cisco's Global Executive Talent practice, Frangos is a visionary thinker on leadership and executive career trends including:

What C-suite shakeups mean for companies and why timing matters more than anything else
How new executives can improve their odds for success by being strategic
Why we can't seem to achieve gender parity and racial diversity in the C-suite and what we can do about it
Also: The latest on succession planning, leadership success and career trends, executive development, and working with boards of directors and activist investors
A career playbook for anyone who aspires to the top spot, CRACK THE C-SUITE CODE features advice from successful C-level leaders, including Accompany's Amy Chang, Goldman Sachs' Edith Cooper, Nest's Yoky Matsuoka, Cisco's Chuck Robbins, and Corning's Wendell Weeks. These and other top leaders from a broad range of companies, including Microsoft, Google, and General Electric, tell the stories of their success and help aspiring executives crack the C-suite code.
"If you've ever wanted to really figure out how to ascend to the C-suite, this is your Rosetta Stone. Based on in-depth research and case studies, Frangos identifies and quickly brings to life the four key routes to the top. A must-read for all aspiring executives!"
—James M. Citrin, Leader, Spencer Stuart CEO Practice
"Frangos has created a roadmap for executives on the fast track. With concrete depth, she lays out the tactics that guarantee a spot on the top team."
—Sylvia Ann Hewlett, Author, Forget a Mentor, Find a Sponsor and Executive Presence
"With insightful advice and input from scores of C-suite executives, Frangos creates a roadmap for professional success that is both compelling and entertaining."
—David P. Norton, Co-founder, The Palladium Group, and Co-creator, Balanced Scorecard Collaborative
ABOUT THE AUTHOR
Cassandra Frangos, EdD, joined Spencer Stuart's Leadership Advisory Services team in 2018, where she focuses on collaborating with Fortune 500 leadership teams on executive assessments, succession planning, leadership development, and top team effectiveness. Previously, she led Cisco's Global Executive Talent practice where she played an integral role in the 2015 succession planning for Cisco's CEO, one of the most respected and longest tenured CEOs in the tech industry, and conducted the research for Crack the C-Suite Code. Called "the executive whisperer" by Diversity Woman magazine, she has contributed to Harvard Business Review, Forbes, Fortune, Chief Executive, NACD Directorship, SHRM publications, LinkedIn, Chief Learning Officer Magazine, HR People + Strategy, and Talent Quarterly.
ABOUT WHARTON DIGITAL PRESS
Wharton Digital Press was established to inspire bold, insightful thinking within the global business community. In the tradition of The Wharton School of the University of Pennsylvania and its online business journal, Knowledge@Wharton, Wharton Digital Press uses innovative digital technologies to help managers meet the challenges of today and tomorrow.
As an entrepreneurial publisher, Wharton Digital Press delivers relevant, accessible, conceptually sound, and empirically based business knowledge to readers wherever and whenever they need it. Its format ranges from ebooks to print books available through print-on-demand technology. Directed to a general business audience, the Press's areas of interest include management and strategy, innovation and entrepreneurship, finance and investment, leadership, marketing, operations, human resources, social responsibility, and business–government relations.
ABOUT THE WHARTON SCHOOL
Founded in 1881 as the first collegiate business school, the Wharton School of the University of Pennsylvania is recognized globally for intellectual leadership and ongoing innovation across every major discipline of business education. With a broad global community and one of the most published business school faculties, Wharton creates economic and social value around the world. The Wharton School has 5,000 undergraduate, MBA, executive MBA, and doctoral students; more than 9,000 participants in executive education programs annually and a powerful alumni network of 98,000 graduates.
CRACK THE C-SUITE CODE
How Successful Leaders Make It to the Top
By CASSANDRA FRANGOS
March 6, 2018
Wharton Digital Press
Format: Paperback, $17.99 | ISBN: 978-1-61363-084-6
Format: Ebook, $12.99 | ISBN: 978-1-61363-085-3