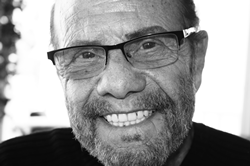 LOS ANGELES (PRWEB) April 11, 2019
"Eccentric in keeping with the mystique that's built up around it."
-- Glenn Kenny, The New York Times
"Freewheeling - funny." -- Rebecca Keegan, Vanity Fair
"Humor that sneaks up and provokes a mixture of delight and reflection."
-- Robert Rosen, KCRW
"A comic time capsule with a timeless punch ... Trumpian parallels are no coincidence."
-- Sheri Linden, The Hollywood Reporter
"Never has an independent film been more relevant ... and it's funny!!"
-- Michael Gruskoff, Producer, Mel Brooks' "Young Frankenstein"
Q: Zack, thank you so much for joining us on this interview today.
A: Are you kidding? You're thanking me..? After 33 years, I wanna give you a hug and a kiss!
Q: I've never heard gratitude expressed quite that way before ... but thanks!! You have created this outrageous political satire with an even more extraordinary backstory. Where did the idea for "Chief Zabu" originate?
A: Fortunately, I guess it began when I was a young kid growing up in Revere, a small city outside of Boston. It was a political world, as my father was the lawyer for the city, and even more important, I never saw a television until I was eleven years old. This was the only world I experienced or even knew existed. Incidentally, my father was also in the real estate business, so to me, politics and real estate always went together!
Q: So now we find ourselves in this surreal moment in human history in which a man, who just so happens to come out of the real estate industry, becomes President of the United States. Let's talk about the similarities between real life and what you created thirty years ago.
A: What I created thirty years ago was a comment on what I saw every day as a kid, and also what I saw as an adult driving in and out of New York City daily. No matter in which direction I was headed, I saw this big sign looking down at me, and it said: the TRUMP PAVILION. Made sense to me! Real estate is money, money is power, and power influences politics! That's how I grew up.
Q: I guess that means for you that life imitates art and art imitates life. After all, isn't it the same Trump who was not only a successful real estate developer, but also became our President ... Wow. And you made this movie thirty years ago?
A: Unfortunately I have to correct you on two counts. First of all, we made the movie thirty-three years ago. And secondly, the guy we were talking about was not Donald Trump, our President, but his father Fred, who went from being one of the most powerful men in New York City to become known throughout the entire world as "Donald's Dad"!
Q: That is rather unbelievable! What do you think is going to become of this film once it's released?
A: Starting in September, we're going on what people are referring to as "The Zabu Tour". The concept we've put together has made each and every theater chain in the country say "We want Zabu in our theaters!" There's a great reason for that. First, the movie is about a New York Real Estate developer who wants to be loved, respected and have political power. I suppose it doesn't hurt that every market we go into will be saturated with not only conventional PR, but we'll be going all out also with Social Media.
Q: So what is this I hear about you doing a live show in each market you're going to be playing..?
A: My co-writer, co-director and co-producer Neil Cohen is traveling with me to every city we open to do the live show. We've already presented this in comedy clubs, specialty venues and movie theaters in both LA and New York. About a week before the picture opens we'll do the show, which includes an opening introduction as to how we got here tonight, then the screening of Zabu, followed by a stand-up Q&A. The crowds really love the movie, and I think they also enjoy seeing me on the screen and in person ... thirty years older!
Q: So what's your ultimate goal?
A: To have people get to know the name of our movie "Chief Zabu". The biggest thing in the motion picture business today, even bigger than playing in movie theaters, are the ancillary markets ... which include Home Video, Television, Pay-Per-View, VOD, Internet, and the piece de resistance, STREAMING!! I think CHIEF ZABU, as it travels around the country, may very well become a household name.
Q: It's a fascinating story, Zack! Beyond this film, please tell the audience what you have in mind for what comes next for you.
A: Next, we're doing a movie called "GONE TO POT (GTP)"! This picture is about the present day world, where marijuana is legal, growing and traveling to all kinds of unusual places. It's a comedy about a couple of guys who inherit an old, beat-up pot shop, that all of a sudden changes their lives forever. It's not only a hilarious story about the latest and most dominant new product in our country, but GTP is going to lend its name to actual strains of pot, assorted paraphernalia and other merchandise, which will make it the most recognized Business and Brand in the Cannabis Industry throughout the world.
Q: Thank you so much for your time today, Zack. It certainly sounds like you have a busy schedule ahead! Enjoy the trip!!
A: Thank you – and of course ... CHIEF ZABU!!!
Website: https://www.chiefzabu.com/
Twitter: https://twitter.com/chiefzabu?lang=en
IMDB: https://www.imdb.com/title/tt0094859/