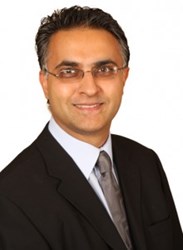 Oxnard, CA (PRWEB) January 24, 2014
Dr. Saj Jivraj, founder of the Anacapa Dental Art Institute in Oxnard and Woodland Hills, Calif., recently returned to his practice after spending six days in India as an invited lecturer.
Jivraj traveled to three cities – Delhi, Hyderabad and Mumbai – where he was involved in live patient demonstrations, teaching experienced dentists the All-on-Four dental implants technique. Jivraj has been placing implants for his patients since the 1990s and is recognized as an expert in the field.
Jivraj also was one of the main podium speakers at the Indian Society of Oral Implantologists conference in Mumbai, which was attended by more than 700 dentists. He participated in both theoretical and practical hands-on sessions.
The All-on-4 procedure is available to Jivraj's patients at the Anacapa Dental Art Institute in Oxnard and Woodland Hills. The All-on-Four procedure provides a set of replacement teeth with a full arch implant rehabilitation without using bone grafting, which is often required in inserting dental implants.
The Anacapa Dental Art Institute provides the following procedures in Oxnard and Woodland Hills, which are in Ventura County:
● All-on-Four/All-on-Six dental implants
● Mini dental implant
● Teeth in a Day
● Teeth in an Hour
● Sedation dentistry
● Cosmetic dentures ("facelift")
Anacapa Dental Art Institute offers comprehensive services for implant, cosmetic, reconstructive and older adult dentistry. Visit http://www.dentalimplantsventura.com for more information.