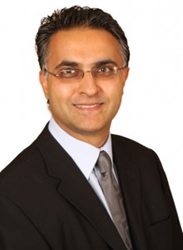 "I am proud to be invited to speak," Dr. Jivraj said.
WOODLAND HILLS, CA (PRWEB) May 29, 2014
Woodland Hills dentist Dr. Saj Jivraj recently finalized plans for his trip to speak to young dentists in England next month.
Dr. Jivraj, of the Anacapa Dental Art Institute in Woodland Hills and Oxnard, Calif., will speak to about 150 members of the London vocational training scheme, he said.
Dr. Jivraj will speak in London on June 27 at the London Dental Study Club on aesthetic and implant dentistry and building a career.
The prosthodondist is one of the best cosmetic dentists and dental implant specialists in the world.
"I am proud to be invited to speak," Dr. Jivraj said.
Dr. Jivraj is a native of England and earned his degree at the University of Manchester. Dr. Reshad qualified as a dentist in 1993 from Kings College, London University. He earned his master's degree in Conservative Dentistry with distinction at the Eastman Dental Institute, London University, still maintains an office in London and is a member of the British Association of Cosmetic Dentistry.
Speaking internationally is a common occurrence for Dr. Jivraj, as he regularly presents on procedures such as All on 4 dental implants and Teeth in a Day.
Dr. Jivraj went to India last month to demonstrate and lecture on full mouth restoration – his third trip to India in recent months. He also was one of the main speakers at the Indian Society of Oral Implantologists conference in Mumbai.
Dr. Jivraj also spoke during the 29th annual meeting of the Academy of Osseointegration earlier this year.
Dr. Jivraj and his partner in the Anacapa Dental Art Institute, Dr. Mamaly Reshad, both gave a two-day training last month on Teeth in a Day at Nobel Biocare's facility in Yorba Linda, Calif. Dr. Reshad also gave a one and a half day course recently on full-mouth implant reconstructions in the Southern California area.
Dr. Reshad is also an international speaker, having spoken to the British Academy of Cosmetic Dentists in London and the French Dental Association in Paris since November.
Dr. Reshad just recently accepted an invitation to speak to the Canadian Academy of Restorative Dentistry and Prosthodontics (CARDP) annual Scientific Meeting in September.
As prosthodontists, Dr. Jivraj and Dr. Reshad are trained in advanced techniques in implants, aesthetic and cosmetic dentistry, and both have served as chairman of the University of Southern California's School of Dentistry Fixed Prosthodontics and Operative Dentistry section.
Dr. Jivraj co-wrote the internationally used textbook "Treatment Planning in Implant Dentistry." He is a member of the Journal of Esthetic and Restorative Dentistry's editorial board; a Dental Teamwork magazine associate clinical editor; and an ad hoc reviewer for the Journal of Prosthetic Dentistry.
Dr. Jivraj is a faculty member of the USC School of Dentistry as an associate clinical professor; an Eastman Dental Institute in London clinical teacher; and is on the British Academy of Restorative Dentistry's board of directors.
Dr. Reshad has been published on various topics related to prosthodontics, aesthetics and dental implants in numerous peer-reviewed journals and textbooks. He is on the highly prestigious Journal of Aesthetic and Restorative Dentistry's editorial board; is an Eastman Dental Institute honorary clinical teacher; and is a faculty member of the Global Institute for Dental Education.
The Anacapa Dental Art Institute offers comprehensive services for implant, adult, restorative and cosmetic dentistry. Besides Dr. Jivraj and Dr. Reshad, the staff includes a root canal specialist, a general dentist, two hygienists, three dental assistants and two receptionists.
Specialties include:
● All-on-Four dental implants
● All-on-Six dental implants
● Mini dental implants
● Teeth in a Day
● Full mouth reconstruction
● Teeth whitening
● Invisalign teeth straightening
● Sedation dentistry
● Cosmetic dentures ("like a facelift")
Those looking for a Malibu cosmetic dentist or Oxnard All on Four dental implant reviews or Thousand Oaks' best cosmetic dentists can get more information about Dr. Jivraj and Dr. Reshad at Dentalimplantsventura.com.