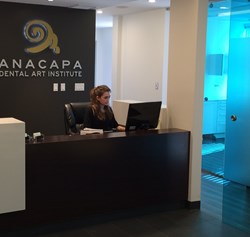 This system will be the standard of care in due course," Dr. Reshad said. "But for now Anacapa is proud to be the first in taking infection control to the highest level in the U.S.
Woodland Hills, CA (PRWEB) February 22, 2014
The new Anacapa Dental Art Institute in Woodland Hills is the only dental office in the country to introduce the latest and the best in ergonomic and high-quality infection control in a dental office, according to dentists Dr. Saj Jivraj and Dr. Mamaly Reshad.
"Our cabinets are made of high-quality surgical steel and not wood like most dental offices in the U.S," Dr. Jivraj said. "This immediately has a huge advantage in terms of hygiene. Also, they are designed with the patient health comfort and protection as a priority."
Each operatory has a mini-sterilization and disinfection facility that can be carted to a central sterilization area avoiding cross-contamination.
"What we're doing here will change the standard of care," Dr. Reshad said. "It's beyond what anyone else is doing in the U.S."
The pair used a leading dental-equipment manufacturer in Italy that blends European style and sophistication with hygiene.
The Woodland Hills cosmetic dental office, at 6325 Topanga Canyon Boulevard, No. 513, is 1,500 square feet and features an in-house dental lab catering to patients in and around Los Angeles.
It is one of two new facilities Anacapa Dental Art Institute opened recently.
The Oxnard cosmetic dentist office, at 2821 North Ventura Road, Bldg H. It has 3,600 square feet with six treatment rooms, a fully in-house dental lab and a state-of-the-art teaching center.
The on-site teaching center includes a high-tech suite where dentists can observe patient treatments. Dentists from Japan, China, India and South America will attend courses at the office.
The Anacapa Dental Art Institute has a staff of 11, which includes two prosthodontists, a root canal specialist, a general dentist, two hygienists, three dental assistants and two receptionists.
The Anacapa Dental Art Institute has been offering quality dental care treatments since 1996. The team specializes in implant, prosthodontic, cosmetic and restorative dentistry. It also offers gentle dental care treatments for patients aged 50 and above.
Dr. Jivraj and Dr. Reshad are award-winning prosthodontists. They are specialists in implant, cosmetic and reconstructive dentistry. Both are former chairmen of University of Southern California School of Dentistry's Fixed Prosthodontics and Operative Dentistry section. They also are international lecturers and published authors.
The Anacapa Dental Art Institute provides the following procedures in Oxnard and Woodland Hills, which are in Ventura County:
● All-on-Four/All-on-Six dental implants
● Mini dental implants
● Teeth in a Day
● Teeth in an Hour
● Sedation dentistry
● Cosmetic dentures ("facelift")
More information on Anacapa Dental Art Institute is available at http://www.dentalimplantsventura.com.