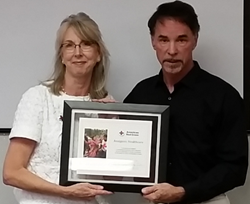 Support of businesses like Analgesic Healthcare enables the Red Cross to provide help and hope to the people of Nepal who have suffered so much.
(PRWEB) July 27, 2015
After hearing about the Nepal earthquake and the story of so many displaced and hurting people, Analgesic Healthcare, Inc. thought it only appropriate to help those who have suffered so much from this disaster. AHC reached out to The American Red Cross to give a contribution to help in their effort providing aid to those affected by this terrible tragedy. The American Red Cross is an organization which has an unprecedented and incredible history of coming to the aid of those in need for over 134 years.
"We are so grateful for the generosity of Analgesic Healthcare and their team," said Linda Jorge Carbone, CEO of the American Red Cross Central Florida Region and the Tampa Bay Chapter. "Support of businesses like Analgesic Healthcare enables the Red Cross to provide help and hope to the people of Nepal who have suffered so much."
During a company-wide key note address on June 19th, Major Gifts Officer for The American Red Cross of the Central Florida Region Tampa Bay Chapter, Suzanne Holmes, acknowledged AHC's effort.
"We feel that corporate social responsibility is essential within our organization. In this spirit we could not stand idle. It is simply within the core culture of the company and its people. Suzanne Holmes and people such as herself are greatly needed in the community. The support and coordination of her team is greatly appreciated, and we thank them for all they do to support those in need," said Analgesic Healthcare's CEO, Roy Edgerton.
About Nepal Earthquake:
On April 25th, a 7.8 magnitude earthquake devastated Nepal. The earthquake and aftershocks have taken the lives of more than 9,000 people and injured more than 23,000. Also, this has left more than 800,000 homes destroyed or damaged. As many as 8 million people – nearly 1/3 of the country's population – have been affected. Long-term aid will be needed for years to come.
About The American Red Cross:
The American Red Cross shelters, feeds and provides emotional support to victims of disasters; supplies about 40 percent of the nation's blood; teaches skills that save lives; provides international humanitarian aid; and supports military members and their families. The Red Cross is a not-for-profit organization that depends on volunteers and the generosity of the American public to perform its mission.
For more information, please visit RedCross.org or visit them on Twitter at @RedCross.
About Analgesic Healthcare, Inc:
Analgesic Healthcare, headquartered in Tampa, Florida, leads the way in serving the needs of more than 60,000 patients across the United States from more than 2,000 clinics and doctors' offices.
Since 1978, Analgesic Healthcare has worked to deliver the highest level of customer care and service. As a leader in the HME field, AHC is uniquely positioned to provide complete therapy, service, and support.
Source: LinkedIn.com