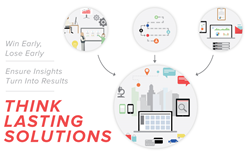 Our mantra is win early, lose early. The last thing we want is spending critical resources for weeks on an analysis that will lead to a small result for a client. Early and frequent checkpoints ensure we are on-track for big wins each and every time.
Denver, CO (PRWEB) May 20, 2015
The foundation for driving big results from big data analytics really starts with a powerful and well-run analytics capability. In this article, we'll review specific themes that drive success when companies build their big data analytics capability. To view the full article, visit http://www.clickfox.com/buildinganalyticscapability
Strategy - Crafting a vision for what needs to be done.
Underpinning the overall Big Data Analytics program should be a well-grounded strategy with specifically targeted use cases that will lead to quick wins as well as longer term strategic value. Crafting this strategy during the early phases is paramount, as it will provide significant direction and guidance in the makeup of the team, technologies used, and process by which the analytical team is managed.
People: Dealing with the talent gap.
A few years ago, McKinsey predicted that, by 2018, the demand for deep analytical talent would out-pace supply by 50-60%. Companies are certainly already feeling this squeeze today. There are simply too few formally trained analysts out there, and the ones that do exist are difficult to recruit and retain.
When recruiting, whether for statisticians or process oriented analysts, look for a deep problem-solving capability first and foremost. Look for analysts with a natural curiosity and experience drilling into how and why things work the way that they do. Candidates with engineering backgrounds tend to make excellent analysts, as well as those with programming experience. However, don't be too quick to dismiss unusual backgrounds – such as liberal arts backgrounds. In the full article on our website, we continue the discussion around collective makeup of the team as well as incorporation of subject matter expertise from various parts of the business.
Data: Thinking about how to use and structure data is as paramount.
Very few companies struggle with acquiring and accumulating data these days. What we see over and over again, however, is that the data "strategy" is missing. Companies collect data because it's what they are "supposed" to do, but a lack of strategy around use cases can lead to failure almost from the beginning. Companies should collect data with a specific purposes in mind. Once the data strategy is established, there must be a periodic reevaluation of the data and its current structure to see if it supports the plan. Disparate data sources may be easy to collect, but driving value from them independently is hard. According to McKinsey & Co., 56% of customer interactions occur as a part of a journey that includes multiple touchpoints across more than one channel. More importantly, journeys are 30-40% more predictive of key business drivers like CSAT and Churn than individual events.
Technology: Finding the right technologies and partners.
Once you have the right data being guided by the right strategy, and you've built a diverse team of analysts with the proper support structure around them, you must connect the two with the right technology. There are no shortage of available solutions for working with big data, and the choice of which one is right for your organization will be highly specialized. But you should look for a technology that not only connects your data and your people, but also comes backed by a company with the experience and expertise to enhance both of those pieces. The right technology comes with its own people to help you identify the proper data to feed into it.
Process - Governing the moving pieces with well-designed and intentional methods.
It's important to surround the team and technology with good process to keep the right work at the front of the queue. An intake process is important to receive, evaluate, prioritize and assign work to the appropriate analyst(s) based on the potential upside, complexity of the work, skill required, and time sensitivity. Checkpoints during the analytics process are also critical. "Our mantra is win early, lose early," said William Hawley, COO of ClickFox. "The last thing we want is spending critical resources for weeks on an analysis that will lead to a small result for a client. Early and frequent checkpoints ensure we are on-track and allow for rapid re-focus should the possible results from an analysis look un-impressive." It's not enough to know more, insights must be turned into action through changes to business processes or supporting technology, as well as improved employee education.
Creating a powerful analysis capability is really the foundation of getting big results from big data analytics. Combining the right people, process and technology into a high performance unit will yield powerful insights to propel the business forward with new revenue growth and cost savings opportunities. In our next article, we'll focus on strategies and tactics for delivering near-term results, a critical piece of the overall approach to ensuring success with big data analytics.