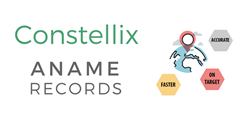 Reston, VA (PRWEB) September 15, 2016
Constellix DNS has announced the addition of ANAME records to the traffic management suite. ANAME records were originally developed by DNS Made Easy engineers to overcome the shortcomings of CNAME and A records. Constellix has now released their own version, but with even greater granularity.
"We have combined the versatility of ANAME records with the precision of our proprietary GeoDNS routing techniques. We believe this technology will revolutionize the way admins manage their DNS. Even more so than when DNS Made Easy introduced the world to ANAME records," says President of Constellix Steven Job.
Constellix uses GeoDNS to answer queries from many different locations around the world on their IP Anycast + network. This technology allows ANAME records to be answered more accurately, faster, and specific to each individual point of presence. In DNS Made Easy, ANAME records could only be configured using the Global Traffic Director, which could only respond to queries on a regional basis.
This new record type was engineered to work with Content Delivery Networks (CDN), by overcoming the pitfalls of CNAME and A records. These older record types were unable to be updated dynamically, could not represent the root record, and/or could not support multiple IP addresses; all of which are requirements of DNS working efficiently with a CDN.
Constellix ANAME records have also been able to overcome issue with propagation that has plagued other DNS providers. Constellix GeoDNS uses instant DNS updates, which instantly propagate changes administrators make to their networks.
Constellix's ANAME technology also offers faster lookups, because the network stores ANAME IP addresses in a temporary memory cache at every server location for up to a week. In the event an IP address is unreachable, the cached version will be served. This allows the Constellix network to perform ANAME lookups significantly faster and prevent end-users from being sent to downed addresses.
About Constellix
Constellix is a subsidiary of Tiggee LLC, the creators of DNS Made Easy, and the industry leader in providing IP Anycast enterprise DNS services. Constellix is an Internet Traffic Optimization Services (ITOS) company and trailblazer in next-generation traffic management solutions. The Constellix GeoDNS platform offers the most powerful and precise DNS query management, engineered for the cloud. The platform is fully integrated with Constellix Sonar, which offers a range of advanced monitoring features and intelligent analytics tools.