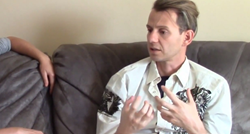 The same day I stopped eating sugar, I stopped my medication for A.D.D. Forever.
Huntigton Beach, CA (PRWEB) April 30, 2014
Many different people suffer from Attention Deficit Disorder, also commonly known as A.D.D. Children, students and adults can all have symptoms of A.D.D., which commonly affects their personal and work life. It is common for people to take addictive medications that can often times have negative effects on the body, however, now many are turning to natural methods to cope with their A.D.D. symptoms. Now, a new video released by Conscious Counselor explores topics about A.D.D. and the benefits of treating the condition naturally.
"I had trouble concentrating. I had trouble focusing on just one thing," says Sead Pepic, a founder of Conscious Counselor. Pepic, who is an advocate for natural remedies, says that avoiding sugar was one of the most effective treatments to helping treat his A.D.D. symptoms. for the full story, please go to https://www.youtube.com/watch?v=gIpqqUC9fIA
Pepic was on medication prescribed by a psychiatrist for three years during his early twenties when A.D.D. symptoms first started to show. Pepic had purchased the book, Natural Cures, by Kevin Trudeau where he read that sugar was the main cause of his problems. "I got off the sugar and got off the medications the same day and I never went back to the medication," says Pepic.
"This is closer to who I am now. Not being a robot or a drone. Or somebody that is drugged. I prefer to be drug free in life," says Pepic. He also states in an interview in the recently launched YouTube video by Conscious Counselor that the medication he was on for A.D.D. changes a person's personality a little bit even though he was not aware of this side effect at first. Pepic knew that there had to be another way to cope with symptoms of A.D.D. without taking medication as he feels that medication is not a natural way to solve a body's symptoms.
At the point of Pepic's life where he turned to medication for A.D.D. symptoms, he had not yet become knowledgeable in organic food and the powers to the human body they can provide. In the interview, Pepic mentions the vast amount of marketing that Americans as a culture are exposed to where taking a pill will solve any and all problems for a person. Pepic's upbringing did not lead him to believe that what a person eats affects the way they are and the way they live their life. To view a video on diet, please click on how diet and food affects the body
When Pepic was diagnosed for A.D.D., he had seen three separate doctors who all agreed that he had A.D.D. Medication was immediately prescribed and there was no concern of Pepic's diet at the time. After taking the medication he was prescribed for so long, Pepic finally found out that sugar played a large role in his symptoms. Once Pepic removed sugar from his diet, his A.D.D. symptoms had subsided and no longer needed medication to treat A.D.D.
After doing his own research, Pepic found that the need to treat A.D.D. with simply pharmaceutical treatments was unnecessary and found a natural way through a change in diet. Pepic is a firm believer that what is put into a person's body is incredibly important since certain foods can have a negative effect to the way the body reacts. Food is an incredibly powerful tool that people can use to treat symptoms of not only A.D.D. but other conditions naturally and effectively.
Sead Pepic has recently started an organization called Conscious Counselor which brings awareness to our everyday living. With awareness, comes a broader scope of choices that we have. With more choices comes choosing what is more ideal for us, hence giving us a much more rich and fulfilled life. Some of his other videos are: how to deal with your emotions, the differences between men and women, what food should I eat, what is happiness and becoming present, and a more advanced topic on food using raw yogurt. You can look up Conscious Counselor on youtube to find these videos.
Sead Pepic
Conscious Counselor
(845) 494-0969
http://ConsciousCounselor.com