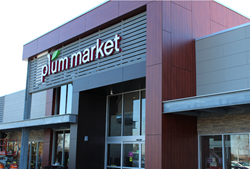 Ann Arbor, MI (PRWEB) November 11, 2015
Plum Market (http://www.plummarket.com) will officially open its second Ann Arbor store at 3601 Plymouth Road today at at 8am. The North Campus location will be the neighborhood's new destination for all natural, organic, specialty, and local items in a full-service shopping experience.
This is the fourth full-service store in southeast Michigan for the Farmington Hills-based grocer, who also operates a store in Old Town Chicago and recently opened a location inside the Detroit Metropolitan Airport.
Guests are encouraged to attend the Ribbon Cutting at 8am and will be treated to a variety of demonstrations and samples from vendors throughout the day. Vendors will include guest favorites and partner brands, like all natural Niman Ranch proteins and Ann Arbor's own Zingerman's Coffee Company and Zingerman's Bakehouse. Guests are also encouraged to explore the new store and its many unique features, including the Plum Market Kitchen, Coffee Bar and Lounge, and local selections from Michigan's finest companies and family farms.
The fun will continue through the weekend with a special Opening Weekend Event on Saturday the 14th from 11am to 3pm that will feature live music from a DJ, more free samples, and fun festivities. Plum Market's first-ever Flash Sale Frenzy featuring over a dozen items will begin at 8am on Opening Day and last through closing time on Sunday the 15th. Flash Sale items will also be available at the Plum Market-Maple Road location.
To see the complete list of Flash Sale items and to learn more about the opening, please visit http://www.plummarket.com.
About Plum Market
Plum Market is your neighborhood grocer for Natural, Organic, Local, and Specialty items. The privately owned Michigan-based company operates full-service grocery stores in Chicago, Illinois; Bloomfield Township, Michigan; and West Bloomfield, Michigan; in addition to its first store in Ann Arbor located at 375 North Maple Road. A new location inside the Detroit Metropolitan Airport opened in October 2015. Plum Market is also active on social media: Follow them on Facebook, Twitter, Instagram, and Pinterest.