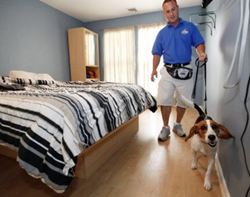 We are bringing the AnchorID service into play, giving customers a quicker resolution to understanding their issues and solving them.
New Jersey, USA (PRWEB) February 19, 2014
Anchor Pest Control, a NJ Exterminator, has been proud of being innovative and customer focused for over 25 years. With their new 'Bug ID' service, they have outdone themselves. Commercial and residential customers can simply send a photo of the little pest that they found to Anchor and a trained pest control technician will respond and let them know what they can do to eliminate the critters. Even non-customers can get one free diagnosis.
More than simply an email with the species of pest, an Anchor technician will call the customer, discuss the critter, share ideas for eliminating them and even schedule an onsite consultation. More information is available at http://www.anchorpestcontrol.net.
"The pest control industry has had minimal advancements in adopting technology to streamline communications with customers. We are bringing the AnchorID service into play, giving customers a quicker resolution to understanding their issues and solving them. Sometimes it's just the peace of mind knowing for sure what the pest is, coming from an expert. We regularly have clients sharing bugs that are completely harmless and can be treated by the homeowner easily, saving them a service call to a Pest Control Company." – Carmen Reino, Owner, Anchor Pest Control
Since launching this service earlier this month, Anchor has received pictures from people all over New Jersey, New York and Pennsylvania wondering what type of pest they have and what can be done about it. Anchor has been able to provide them with an identity for the bug and a solution to the infestation. They even extend a Lifetime Guarantee to commercial customers. Bed Bugs in NJ are a common problem and a misdiagnosis can make the issue much worse.
"Anchor took the time to explain that I had bed bugs based on my AnchorID submission, the necessary next steps, and then arrived quickly to begin the bed bug removal. I have a small hotel with a bed bug problem in our laundry area. This could have quickly escalated into a much bigger issue if we tried to treat the situation ourselves, we thought they were fleas from a guest's pet." - Manny S., Customer
Anchor Pest Control offers commercial and residential pest control in NJ, NY and PA. Bed bugs, termite, rodents and other forms of pests have been handled for over 25 years by this team of professionals. Their innovative Bug ID Service is just the latest of the tools that they have brought to their customers to protect them from creatures of all sizes and shapes, both for Residential and Commercial Pest Control.
How does it work? Just visit http://www.anchorpestcontrol.net from your mobile phone and select AnchorID. This will allow you to submit a photo along with your contact information to the Pest Control specialist.
If you would like more information about this topic, please contact Carmen Reino at 800-585-1580, online at http://www.anchorpestcontrol.net or by email at info(at)anchorpestcontrol(dot)net.