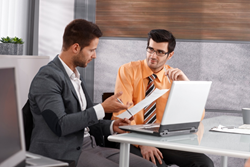 In a case involving spousal support, it is incredibly important to have the legal counsel of an experienced divorce attorney.
Everett, WA (PRWEB) September 29, 2014
"As a part of an overall settlement in a divorce case, spousal support can be a significant consideration, worth tens or even hundreds of thousands of dollars," according to a recently released article from the Family Law Department at the Anderson Hunter Law Firm.
They continue on to explain, "Spousal support is a payment from one spouse to the other after the couple has separated or divorced. It may also be referred to as maintenance or alimony."
When an individual is contemplating divorce, it is crucial that they consider all of the financial ramifications and potential issues involved as they move forward with their decision.
An experienced divorce attorney has the knowledge and practical experience to provide legal counsel to those considering, starting, or proceeding with a divorce, and can help them through the process of filing for divorce and handling all of the questions and issues that may arise during the case.
Where applicable, spousal support (aka maintenance or alimony) is an important factor, and often a confusing one for the parties. Having an experienced and knowledgeable attorney to work with can streamline and ease the often emotional and stressful divorce process.
To request a free consultation with a family law attorney at the Anderson Hunter Law Firm, simply visit their website.
According to the article, spousal support can be a difficult issue to negotiate because of the relative uncertainty of what is appropriate. "These can be difficult and complicated issues, and a lawyer's help is especially valuable in negotiating these kinds of support conflicts."
About The Family Law Department at Anderson Hunter Law Firm:
The attorneys in the Family Law Department at the Anderson Hunter Law Firm, G. Geoffrey Gibbs and Laurie Ummel, have decades of legal experience and are well-recognized within their field. They routinely handle all types of family law issues including divorce, child custody, relocation, parenting plans, child support, non-parental custody actions, adoptions and more. The Family Law Department at Anderson Hunter is one of the pre-eminent and most respected firms in the field in the Northwest, most often handling cases in Snohomish, Skagit, Island, San Juan and selective King County cases. Take advantage of a free consultation and call to make an appointment with Geoff or Laurie today.