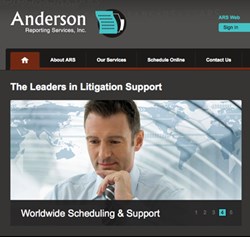 We took a client-focused approach to building our new site
Columbus, Ohio (PRWEB) November 20, 2013
Ohio court reporting and videoconference provider, Anderson Reporting Services, Inc. is proud to announce the launch of their new and improved website. The advanced site will provide attorneys, paralegals and their legal teams with easy-to-use resources for quick access to case information and more.
Backed by an enterprise-class content management system, Anderson Reporting's new site implements the same tools used by world-class companies like McDonalds, ESPN and Sony.
"We took a client-focused approach to building our new site," said Gayle Anderson, President and sole owner of Anderson Reporting. "Our design process was 100% driven by the client experience and we are excited and proud to offer cutting-edge features."
Among the most impressive attributes is an online repository called ARSWeb, which provides attorneys and paralegals with a simple and fast way to connect remotely with case files at any time and in any place. Clients can securely log in to their private accounts using an SSL encrypted username and password to access case files. ARSWeb also provides clients with a personalized calendar that displays a history of all scheduled events and its production status.
A comprehensive online scheduling tool allows clients to request any of Anderson's litigation support solutions online, including:
Realtime Reporter
Videographer
Videoconference
Internet Streaming
Upload notes and notices directly to the scheduling form, request services on a national and international level and receive a confirmation email with every request.
Visit the new and improved Anderson Reporting website at http://andersonreporting.com to check out their enhanced features, learn more about their services and request a username and password for ARSWeb access.