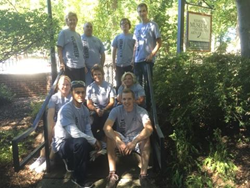 Allentown, PA (PRWEB) October 11, 2016
More than 1,000 employees from area businesses volunteered their time as part of the United Way of the Greater Lehigh Valley's 23rd Annual Day of Caring. Together, over 113,000 of volunteer hours were contributed on a single day with over 50 companies allowing their employees to miss time from work to deliver meals to home-bound residents, repair and beautify area non-profits, spend time with seniors, and deliver backpacks stuffed with school supplies to local children.
Andesa employees, who donated their time, were off in Bethlehem, giving a refreshed look to Kemerer Museums Decorative Arts and the Luckenbach Mill. " The United Way Day of Caring was a great opportunity to volunteer and make an impact right in our community" said Nolan Van Wert, Project Manager for Andesa. "While I am newer to the Andesa team, I've seen time and time again that Andesa's values are not just words on a website – they are demonstrated through action. It's very satisfying to work in an environment where community service is valued and encouraged on the same level as professional development." The teams contribution mainly consisted of painting and grounds upkeep. Andesa employees, along with the collective efforts from other Lehigh Valley companies make a huge impact on the Day of Caring. This is what it means to LIVE UNITED.