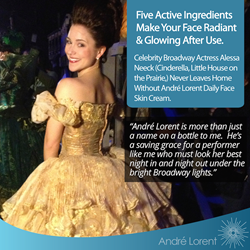 Actress Alessa Neeck swears by the rejuvenating benefits of André Lorent's CRAZY BEAUTIFUL 5-in-1 Anti-Aging Face Créme.
Victor, NY (PRWEB) October 13, 2014
Actress Alessa Neeck, who has appeared in such Broadway shows as Cinderella and Little House on the Prairie, swears by the rejuvenating benefits of André Lorent's CRAZY BEAUTIFUL 5-in-1 Anti-Aging Face Créme. This revolutionary product is the first to combine five scientifically proven anti-aging ingredients in one face cream to offer women the most beautiful, supple skin possible.
"André Lorent is more than just a name on a bottle to me," Neeck said. "He's a saving grace for a performer like me who must look her best night in and night out under the bright Broadway lights."
As Neeck attests, celebrities have to look their best while performing and also in their everyday lives. But women around the world want to look their best and their most youthful as well. That's why the André Lorent skin care line developed CRAZY BEAUTIFUL 5-in-1 Anti-Aging Face Créme. The cream uses Matrixyl®, Argireline®, Hyaluronic Acid, Vitamin C and Vitamin E to hydrate skin, fight wrinkles and bring tired skin back to life.
Typical face creams only include one of these ingredients, but André Lorent has joined all to create a powerful beauty product that restores skin to a supple state. It would take multiple applications of multiple products to get the benefits of reduced lines, wrinkles and crow's feet. With CRAZY BEAUTIFUL 5-in-1 Anti-Aging Face Créme, two applications in the morning and evening ensure that skin receives all the benefits of these powerful age-fighting elements and antioxidants.
Collagen is an essential protein responsible for plump skin. André Lorent's anti-aging face cream features Matrixyl®, which doubles the amount of collagen produced by skin cells. Argireline® was included in the cream for the reduction of fine lines and wrinkles. It acts much like BOTOX®, but without the harmful side effects. Also included is Hyaluronic Acid, which helps skin cells retain water and therefore improve hydration. Every jar also contains the antioxidants Vitamin C and Vitamin E. The former improves elasticity, while the latter protects against environmental dangers.
What André Lorent's cream lacks is harmful parabens, sulfates, petrochemical derivatives and fillers that damage skin and can speed up aging. The lack of these chemicals means that the cream is safe on all skin types. Also absent are fragrances and additives that can aggravate the skin. All creams are handmade in the United States and developed in an FDA-registered lab following strict manufacturing standards.
The CRAZY BEAUTIFUL 5-in-1 Anti-Aging Face Créme is available exclusively through Amazon for $29.95: http://www.amazon.com/Andre-Lorent-BEAUTIFUL-Revolutionary-Anti-Aging/dp/B00N9D8PES/ie=UTF8?m=AUJ9PUE13JM3K&keywords=anti+aging+face+cream. Customers can save 25 percent off when buying multiple bottles with code SALE2525. All André Lorent products are backed by a 100 percent money-back guarantee. Those who aren't satisfied with the product get a no-questions-asked refund and can also keep the unused portion of the cream.
About André Lorent Skin Care
The beautiful island of St. Barths is the inspiration behind André Lorent Skin Care. The line was founded to capture the essence and spirit of the captivating island and its people. André Lorent promises beauty, luxury and quality. The company will continue to grow its beauty line with an anti-aging eye cream and cellulite cream to be released in the near future. For more information on André Lorent Skin Care, please visit http://andrelorentskincare.com/.