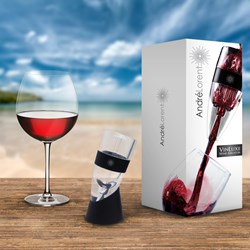 For a limited time, the new VinLuxe Wine Aerator will be available on Amazon at 60% off MSRP.
Victor, NY (PRWEB) January 09, 2014
Luxury accessories company Andre Lorent is excited about the release of their newest product, the VinLuxe Wine Aerator, and is celebrating the product's launch with a deep discount offer. For a limited time, the new VinLuxe Wine Aerator will be available on Amazon at 60% off the manufacturer's suggested retail price.
"We're really excited to finally be able to offer the VinLuxe Wine Aerator," says company founder Ben Cummings. "We put a lot of time into its design and we know we have a truly unique product."
Cummings explains that the VinLuxe Wine Aerator is unlike any other wine aerator on the market, in that it has a globally patented, three step aeration process.
"The VinLuxe is visually striking, with a very sleek, streamlined aesthetic. But its real art is in the engineering," he says. "As soon as the wine is poured into the VinLuxe, our umbrella aeration system opens it up on contact. The wine then flows through 32 tiny holes, which introduces even more oxygen to the wine. Finally, it flows through the aeration filter and into the wine glass, arriving perfectly decanted. We firmly believe this makes the VinLuxe the best wine aerator on the market."
The purpose of decanting wine is to allow the wine's various notes to be more pronounced and yet for the overall flavor to be more subtle and rich. Decanting a wine properly can make even inexpensive wines far more interesting and flavorful. But, as Cummings explains, decanting a wine can be time-consuming and inconvenient.
"When people are enjoying a nice meal or have a house full of guests, they don't want to have to spend a lot of time letting the wine breathe before they can serve it," says Cummings. "The VinLuxe Wine Aerator delivers ready-to-drink wine 300% faster than with pouring it into a glass decanter."
Another distinction that makes the VinLuxe unique is its 100% Money Back Lifetime Guarantee. Should the VinLuxe become damaged at any time, it's fully returned or replaced at no charge.
The limited-time offer and 60% discount are only available through Amazon at this time and the VinLuxe qualifies for free shipping. The VinLuxe also comes with a stylish travel case to make it easier to take the aerator to wine tastings, vineyard tours and on vacation.