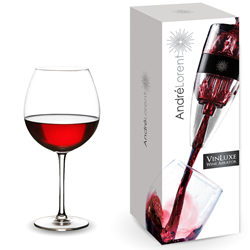 Your ordinary wine is aerated into an extraordinary wine in a matter of seconds, the time it takes to pour the wine into your glass.
Victor, NY (PRWEB) April 22, 2014
Popular food and wine bloggers are joining the mainstream media and wine lovers worldwide in proclaiming the virtues of the new VinLuxe Wine Aerator.
The VinLuxe Wine Aerator was released to the marketplace during the 2013 holiday season, to thundering applause from the wine industry. Customer demand and response quickly prompted Amazon to name the VinLuxe one of its fastest-moving and best-selling products. That response also kept VinLuxe's creator, Andre Lorent Lifestyles, rushing to keep up with new orders. Now, food and wine blogs are creating an even greater demand.
The popular blog Flicks and Food extolled the virtues of the VinLuxe Wine Aerator in a recent review, claiming, "Your ordinary wine is aerated into an extraordinary wine in a matter of seconds, the time it takes to pour the wine into your glass! I used the aerator on a bottle of wine I have had before and I could really tell the difference. I also had a friend try it out for a second opinion and he said he noticed a difference right away."
Flicks and Food joins the mainstream media in its praise of the innovative new wine aerator. Frommer's, the travel industry leader, recently included the VinLuxe Wine Aerator in its slide show of must-have products for Spring 2014 and the Miami Herald recently reported that the VinLuxe distinguishes itself among wine aerators because of its globally-patented three-step aeration process. That innovative design is responsible for both the VinLuxe's extraordinary results and the overwhelming response from the wine community.
"We worked really hard to design an aeration system that would deliver the best possible glass of wine as simply and as quickly as possible," says Andre Lorent co-founder Ben Cummings. "Customer feedback and reviews let us know right away that we had definitely hit the mark."
The VinLuxe Wine Aerator replaces the traditional slow process of decanting wine with a quick and easy, 15-second aeration process that delivers a perfectly opened and decanted wine in just fifteen seconds, a process 300% faster than traditional decanting.
Like Food & Flicks, Frommer's Budget Travel and other media, wine lovers have proclaimed the VinLuxe Wine Aerator a must-have item for anyone who enjoys a great glass of wine.
That unanimous praise has made it difficult for Andre Lorent Lifestyles to keep up with the demand for the VinLuxe Wine Aerator, which is offered exclusively on Amazon, but Cummings isn't complaining.
"We're thrilled with the response from the wine community," says Cummings, "and we're only too happy to increase production to meet the demand."
####
For more information, contact Andre Lorent Lifestyles via email at support(at)andrelorent(dot)com, by visiting the company website at http://andrelorent.com or calling 877-336-7107.