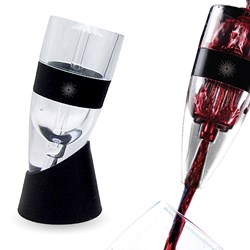 VinLuxe Wine Aerator fully decants the wine 300% faster than the traditional method.
Victor, NY (PRWEB) January 17, 2014
Recently, luxury accessories company Andre Lorent released their globally-patented VinLuxe Wine Aerator to rave reviews and a grateful wine-loving public.
As company co-founder Ben Cummings explains, using a wine decanter has always been a bit of an inconvenience to wine enthusiasts. "Decanting wine properly using traditional methods takes time," says Cummings. "Pouring it into a glass decanter or carafe means letting it sit for at least 15-30 minute before the wine is ready to be enjoyed."
That may sound like a minor problem to some, but as Cummings points out, it can be a real inconvenience in certain situations. "If you're having a function or even just in the middle of a small dinner party and you need to open another bottle of wine, you don't want to make your guests wait thirty minutes before they can drink it."
As much of an inconvenience as decanting wine may be, it's widely acknowledged as a necessity for enjoying the wine at its best. Decanting introduces oxygen to the wine, both through the opening of the bottle and the movement of the wine as it is being poured. However, once the wine is poured into the decanter, it still needs to sit for a bit before it's ready to drink. The VinLuxe Wine Aerator was designed to make that wait unnecessary.
"What we did was design a three-step process that fully decants the wine 300% faster than the traditional method," says Cummings. "The VinLuxe Wine Aerator has a global patent because of its unique aeration system. It takes mere seconds to use yet produces a significantly better tasting glass of wine."
To aerate the wine using the VinLuxe Wine Aerator, the user simply holds the aerator over their glass and pours the wine through it. The wine first pours over the Umbrella Aeration System, which separates and fully opens the wine. It then passes through 32 small holes, allowing more oxygen to get to the wine and then finishes through the aeration filter tube. It then passes out of the tube and into the wine glass or a decanter. The entire process takes just seconds.
The VinLuxe Wine Aerator has been recently released exclusively on Amazon and initial reviews are glowing. Wine enthusiasts report that they notice a significant difference in the flavor, subtlety and body of wine when using the VinLuxe.
To mark the launch of the VinLuxe Wine Aerator, Andre Lorent recently announced a four day customer appreciation sale in which customers could get a 33% discount until midnight on Friday January 17th. Consumers can get this special pricing for one more day, by using coupon code "8E6259BL" when they order on amazon.com.