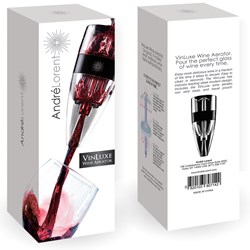 Wine decanted with the VinLuxe is ready to drink 300% faster than without it.
Victor, NY (PRWEB) January 14, 2014
Although there are a handful of wine aerators on the market, Ben Cummings, the co-founder of Andre Lorent, wanted to design a wine aerator that would stand alone against its competitors. The luxury accessories company is known for its innovative designs and their new wine aerator needed to live up to the company's reputation.
As co-founder Ben Cummings explains, that goal led to a painstaking design process. "We really wanted to release a wine aerator that was really unique in several ways so we kept working at things until we were able to release our wine aerator that is a globally patented three-step aeration process."
This three-step process means that the new VinLuxe Wine Aerator delivers fully decanted wine that's ready to be served in just seconds, compared to the lengthy wait involved when using a traditional wine decanter. In fact, wine decanted with the VinLuxe is ready to drink 300% faster than without it.
Cummings adds that Andre Lorent didn't just want to make good wine better, it also wanted to make good wine accessible on any budget. That meant making the VinLuxe affordable for anyone. "The VinLuxe is very competitively priced. Although most of our customers are in a fairly high income bracket, we feel that everyone deserves to get the best out of their wine, even if they're working with a more moderate budget."
According to the initial reviews on Amazon and feedback given directly to the company, the VinLuxe delivers exactly that. Several consumers have remarked that even their less-expensive wines taste significantly better when aerated using the VinLuxe. This inspired Cummings to conduct a special 4-day sale to celebrate the launch of the VinLuxe on Amazon and make it even more accessible to wine lovers on modest budgets.
For four days only, beginning on Tuesday, January 14th and ending midnight January 17th, the VinLuxe Wine Aerator will be available from amazon at a special savings of 33% off. Wine lovers can get this special discount by using coupon code "8E6259BL" when they order.