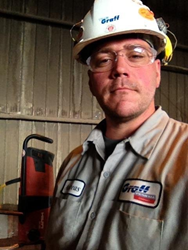 The road to Graff for Andreas was not simply a hop, skip, and a jump away, rather a big leap across The Pond.
Anaheim, CA (PRWEB) April 20, 2015
In 2006 Penhall Company's Canadian Division, The Graff Company ULC gained one talented Mentor Operator- Andreas Kuelz. The road to Graff for Andreas was not simply a hop, skip, and a jump away, rather a big leap across The Pond. 'Professional Demolition Magazine' took quite the interest in Andreas' journey from his home town of Kasrlstad, Sweden to Gemany, to now Kitchener, Canada- he was a feature in one of their latest publications. It is safe to say The Graff Company now has a piece of fame in the construction publication libraries. With knowledge, experience, and drive to be a mentor for the "up and coming" cutters, it was a no-brainer for Demolition Magazine to feature the well-rounded operator.
Born and raised in the Swedish city of Karlstad, Andreas has been exposed to the industry of concrete cutting from a very young age. "I came into the industry early, going out with my father [the first time was at the age of 15] who was a Brokk (remote controlled demo robot) Operator. Whenever there was a school break he would take me along to different jobsites," says Kuelz. Although Andreas has had concrete cutting in his blood due to his father's role in the industry, he too personally decided to work towards attaining a degree as an Industrial Technician which was accomplished from Rikssågverksskolan, a Swedish Technical School.
In 1994, after completing military service, Andreas found it difficult to find work; Rivteknik, one of Sweden's largest construction companies whom his father also worked for was closing its' doors- further proving finding work in Sweden to be next to impossible. Andreas found himself in Germany with a KAS Job (Government Workplace Initiative) which led to his father taking initiative to found his own Concrete Cutting Company. It grew to become a success- and the family moved to Germany.
The big leap across The Pond came years later in 2006-after meeting his now wife, Mandy at an Irish pub in Germany. Originally from Stratford, Canada, Mandy grew home sick and "I was ready for a new challenge" Andreas said. After much research on concrete cutting companies in the Toronto area looking to hire, Andreas found himself dropping off a resume at Graff Company, by the time he arrived home in Kitchener a mere 60miles (100km) away, he was offered the job. Both Andreas and Graff both felt very lucky that day.
"Safety is the priority at Penhall but a positive attitude towards the client and the ability to solve problems independently is essential to a job well done. Customer satisfaction is equally important and this comes not only from dependable and safe equipment but also service oriented operators." With this mindset it's no surprise why The Graff Company as well as 'Professional Demolition Magazine' feels as though this exceptional Mentor Operator be recognized.
Andreas has not been back to Sweden since 2006, and as far as yearning for his homeland of Karlstad goes, he does think of it once in a while- he misses Sweden, but he says that he feels at home in Canada- Penhall Company is glad he does too!
To learn more about The Graff Company ULC: https://www.penhall.com/graff-canada/
To read the Professional Demolition Magazine article: http://issuu.com/dottevik/docs/pd_1_2015/45?e=1577084/12218298
To read other Penhall Company Press releases: https://www.penhall.com/penhall-company-appoints-jeff-long-chief-executive-officer/