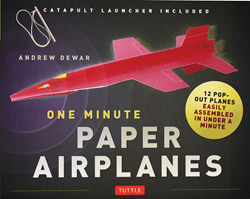 ...the reader would be able to craft realistic-like model planes that can be folded and ready to fly in under one minute
North Clarendon, VT (PRWEB) June 09, 2014
Tuttle Publishing is pleased to announce that well-known paper airplane designer author Andrew Dewar will release his newest paper craft kit, One Minute Paper Airplanes worldwide on June 26. Dewar, a Canadian resident residing in Gifu, Japan, has reached celebrity-like status in Asia as an expert on paper airplane design. He has authored over 30 books including best sellers, Simple Origami Airplanes Kit and High-Performance Paper Airplanes Kit.
His newest title One Minute Paper Airplanes, contains 12 full color pop-out paper models, a catapult launcher and instruction booklet. These awesome high-performance planes are frustration-free—no glue needed, just a stapler and some imagination. "I came up with One Minute Airplanes with 2 things in mind: the reader would be able to craft realistic-like model planes that can be folded and ready to fly in under one minute. And these planes are perfectly balanced and aerodynamically designed for long flying times; up to one minute in fact, so the title serves dual purposes," stated Dewar. The kit is intended for adults and children alike and makes a great project piece for parents and their kids to work on together. One Minute Paper Airplanes is available for pre-order online or through bookstores prior to its release.
About Tuttle Publishing
Established in 1948 by Charles Egbert Tuttle Jr. in Rutland, Vermont and Tokyo, Japan, Tuttle Publishing is the premier publisher of English language books on Asian culture. Today, Tuttle maintains an active offering of books on a wide range of topics, including Asian culture, Asian literature, Asian architecture, Eastern spirituality, gardening, cooking, martial arts, crafts, travel, health and wellness, and fine art for a worldwide audience. For more information, visit http://tuttlepublishing.com.