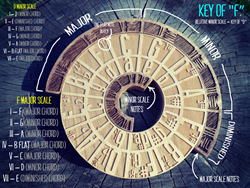 Portland, Indiana (PRWEB) June 19, 2014
The Rooth seeks to replace memorization of music theory by condensing all of the essential information required to write music into a single tangible tool that's small, lightweight, and aesthetically delightful.
The Rooth is a physical representation of the circle of fifths which is used in music theory to learn scales, corresponding key signatures, and associated major and minor keys. The Rooth assists in composing and harmonizing melodies, building chords, writing chord progressions and modulating to different keys within a composition.
Each handcrafted Rooth wheel consists of two separate concentric pieces etched with music theory. The outside, made of solid mahogany wood, is etched with roman numerals indicating the major and minor scale for the chosen key, as well as the chord type for each note. The inside, made of solid maple wood, visually shows the relationships among the 12 tones in the chromatic scale, their key signatures and the associated major and minor keys. It snaps in place with a smooth and reliable rotation using 12 rare-earth neodymium magnets beautifully encased by contrasting mahogany plugs.
The maple and mahogany wood are hand-picked from an FSC-Certified (Forest Stewardship Council) lumber mill and protected with a polyurethane finish.
The Rooth's overall dimensions are 4-7/8" diameter by 1/2" thick and weighs approximately 2.4 ounces for a reason. Most students of music theory spend their time composing in the presence of stacks of informational books or tied to their computer- always keeping their instructional guide (cumbersome as it may be) at arm's reach.
Andrew Wellman decided to change that. He wanted musicians to have the freedom to create beautiful works of musical art anywhere and anytime- in the van on the way to a gig, in the park after class, on top of a mountain after a day's hike- without being attached to heavy books or a clunky computer.
While the tool offers much utility to students of music theory, the concept for The Rooth goes beyond a desire to help others learn to compose music. Read inventor Andrew Wellman's story of how The Rooth was conceived here: http://www.RoothWheel.com.